Congress Coughs up $300 Million to Extend Work on Useless Nuclear Waste Plant
Wednesday, April 29, 2015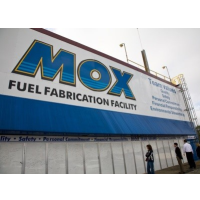 (photo: CB&I AREVA MOX Services)
What's $300 million when a project could end up consuming more than $50 billion over its lifetime? That's what Congress seems to have said about one of the greatest boondoggles by the Department of Energy (DOE): the Mixed Oxide Fuel Fabrication Facility (MOX).
MOX was conceived more than a decade ago, when the U.S. and Russia were working on converting plutonium into mixed oxide fuel that could be used in commercial nuclear power plants.
The DOE first said it would cost $1.6 billion to build the MOX at the Savannah River Site in South Carolina, which was supposed to open in 2007. It's now 2015 and the plant is still only 65% complete. The final cost of just building the MOX is projected to be $7.7 billion, according to the Government Accountability Office. A study by The Aerospace Corporation also pointed out that the life-cycle cost of the facility will be $47.5 billion, according to the Project on Government Oversight (POGO).
That's assuming there would be any reason to operate it because the deal with Russia is now over, and there are no other customers lined up to bring their unwanted plutonium to have it converted.
The project has its critics. Rep. Jim Cooper (D-Tenn.) called the continued funding of the MOX facility a "zombie earmark." DOE officials are so fed up with the project that they were ready to put it on "cold-standby"—in other words, shut it down.
But backers in Congress, including Sen. Lindsay Graham (R-South Carolina), made sure there was $300 million in the 2014 year-end spending bill for MOX. They even prohibited the Energy Department from using the money to put MOX in cold standby.
Aerospace Corporation's assessment was based on $500 million per year being appropriated to the project. With the lesser number, it ends up costing more: a life-cycle cost of $114 billion and a completion date of 2100, POGO reported.
What a thoughtful gift for our grandchildren!
-Noel Brinkerhoff, Steve Straehley
To Learn More:
Cost Estimate on Useless Nuclear Facility Skyrockets (Project on Government Oversight)
Energy Dept. Gives up on Expensive Nuclear Waste Plant (by Noel Brinkerhoff, AllGov)
Cleanup of Radioactive Bomb Waste in South Carolina: The Endless Project (by Noel Brinkerhoff, AllGov)
The Government Project that is $6 Billion Over Budget and 10 Years Late (by Matt Bewig, AllGov)