The Government Project that is $6 Billion Over Budget and 10 Years Late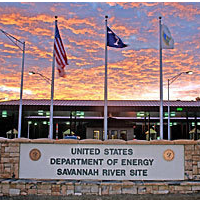 (photo: U.S. Department of Energy)
A facility to convert weapons-grade plutonium into mixed oxide fuel (MOX) for use in nuclear reactors that is billions over budget and years behind schedule may finally be laid to rest by President Barack Obama, whose budget for fiscal year 2014 cut its funding by $115 million and anticipates using "alternative plutonium disposition strategies." Although South Carolina legislators are defending the program, which employs about 2,400 people, its economic problems and their lack of clout with a Democratic administration may doom their efforts.
Originally expected to be online by 2009 at a cost of $1.6 billion, the Savannah River, South Carolina, plant is 10 years behind schedule and the bill is up to $7.7 billion—so far. A recent life-cycle cost estimate for the MOX program calculated by environmental activist Tom Clements of Friends of the Earth foresees a price tag of about $22.11 billion. "It's clear that the mismanaged MOX program has run head-on into fiscal realities and may be set for a phase out," said Clements.
Neither the Department of Energy (DOE) nor its National Nuclear Security Administration, which is in charge of the facility, have released updated official performance or cost baselines for the project since 2008. They do estimate that it won't be ready to open until November 2019.
The MOX project suffers from problems both economic and environmental. On the financial side, one of the most highly touted advantages of the MOX approach, the fact that it yields fuel that can be sold to nuclear reactors, was fatally undermined when Savannah River lost its contract to sell MOX fuel to Duke Energy in 2008 and has been unable since to find another buyer.
Environmentally, the use of MOX fuel took a big hit in 2012 in the aftermath of the accident at Fukushima Daiichi, Japan, because MOX fuel was being used in the boiling water reactor there.
"This current plutonium disposition approach may be unaffordable…due to cost growth and fiscal pressure," warns the DOE budget, and "the Administration will assess the feasibility of alternative plutonium disposition strategies, resulting in a slowdown of MOX Fuel Fabrication Facility construction in 2014." The alternative is to vitrify the plutonium waste, turning it into a chemically stable glass that is stored in canisters placed in a geological repository.
U.S. Rep. Joe Wilson (R)—in whose district the facility is located and who infamously called the President a liar during a 2009 address to Congress—criticized the cuts, saying he was "extremely disappointed in the president's decision to reduce funding."
Sen. Lindsey Graham (R-South Carolina), echoed Wilson's views. "I have deep concerns with the president's budget proposal for the MOX program…[which] has been studied, evaluated and restudied. The MOX plant has always been and will remain the best plan to dispose of weapons grade plutonium."
-Matt Bewig
To Learn More:
MOX Costs Spiral Further Out of Control (by Lydia Dennett, POGO)
Obama Budget Could Put End to MOX (by Mike Gellatly, Aiken Standard)
Concerns with Major Construction Projects at the Office of Environmental Management and NNSA (Statement of David C. Trimble Before the House Subcommittee on Energy and Water Development, and Related Agencies) (pdf)
Meltdown at Japanese Nuclear Power Plant…A Disaster Waiting to Happen (by David Wallechinsky, AllGov)