CDC Funds Group that Helps Hollywood Present Health and Health Insurance Issues Accurately
Wednesday, September 24, 2014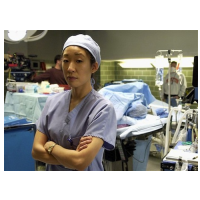 Sandra Oh in Grey's Anatomy (AP Photo)
When television writers or screenwriters need some expert advice for a medical storyline, they turn to Hollywood, Health, and Society, a private group of experts funded by the federal government's leading health research agency.
The Centers for Disease Control and Prevention (CDC) provides up to half a million dollars a year to Hollywood, Health, and Society, which has been advising the entertainment industry for 13 years, according to The Atlantic.
The help is free to writers and producers, who in turn put out shows and films that more accurately reflect health problems and the medical world. The experts are sometimes brought over to production facilities to participate in writer's room sessions, and other times the writers head out on field trips to medical locations, even to a site like the county morgue.
The consultants also can advise on health insurance issues, including the implementation of Obamacare.
"Recently, the center convened producers, writers, health experts, and patients to discuss the Affordable Care Act," The Atlantic's Anna Gorman wrote. The health law has already shown up on ABC's "Grey's Anatomy" and CBS's "Two Broke Girls."
"They delved into topics including enrollment problems, obstacles to mental-health treatment and coverage for immigrant families, with the goal of 'inspiring and informing' writers," Kate Langrall Folb, the group's director, told Gorman.
Hollywood, Health, and Society's handiwork has been seen on both cable and network TV shows. They include AMC's "Breaking Bad" and NBC's "Parenthood" and "Law & Order."
Some medical professionals have even crossed over to careers in the entertainment industry. Dr. Zoanne Clack, who worked as an emergency room physician and is on the board of Hollywood, Health, and Society, is a writer and co-executive producer on "Grey's Anatomy." While she saw about 30 patients during each 12-hour shift at the ER, she is able to educate 15 million people per week on health issues through her TV show, she told The Atlantic.
-Noel Brinkerhoff, Danny Biederman
To Learn More:
Hollywood's Health Experts (by Anna Gorman, The Atlantic)