Boycotts over Anti-Gay Law Expected to Cost Indiana $250 Million…and Counting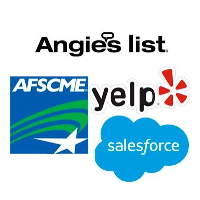 Indiana's passage of a religious freedom law that legalizes discrimination against gays and lesbians could wind up costing the state hundreds of millions of dollars.
Negative reactions to the Indiana Religious Freedom Restoration Act (pdf) have resulted in corporations, conventions and other organizations pulling events or operations out of the Hoosier state or considering doing so.
So far, the boycotts could cost the state's economy $256.4 million or more over the next six years, the Center for American Progress estimated.
Angie's List, a popular website that crowd-sources ratings for services, has halted its headquarters expansion in Indianapolis. The impact: $40 million and 1,000 jobs.
The American Federation of State, County and Municipal Employees (AFSCME), one of the largest labor unions in the country, has decided not to hold its women's conference planned for October in Indianapolis. The impact: $500,000.
The NCAA, which oversees major college sports and is based in Indianapolis, has said it might reconsider hosting major sporting events in Indiana in response to the anti-gay law. The NCAA Final Four men's basketball tournament is scheduled to be held in Indianapolis this weekend and will go on as planned.
Similarly, the Big Ten athletic conference might relocate its annual events to other states.
"Big Ten football and basketball tournaments, which are regularly hosted in Indiana, each generate between $2 million and $16 million per year," according to the International Business Times.
Companies including Salesforce and Yelp have said they'll scale back business in Indiana. Elsewhere, municipal and state governments around the country have canceled travel by their employees to Indiana.
-Noel Brinkerhoff
To Learn More:
Indiana 'Anti-Gay Law' Boycott: SB101 Could Cost Indiana Economy $256.4 Million in Six Years (by Morgan Winsor, International Business Times)
Everyone who is Boycotting Indiana over its Anti-gay Religious-Freedom Law (by Aaron Sankin, Daily Dot)
Here's why Indiana's Anti-Gay Law is Different from other States' Religious Freedom Laws (by Noel Brinkerhoff, AllGov)
Indiana Gov. Pence Signs Bill Allowing Discrimination against Gays (and also Declares an HIV Emergency) (by Noel Brinkerhoff, AllGov)