Billionaires are Bankrolling "Populist" Public Education "Reform"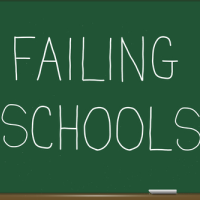 Just about everyone wants schools to be better, especially parents in underprivileged communities whose children are forced to attend those that chronically underperform for one reason or another.
Their concern has helped fuel the growth of charter schools that have challenged the way traditional K-12 education operates, but it is by no means the only force behind what many regard as a populist, grassroots effort to raise the quality of instruction.
Some of the wealthiest Americans in the country and their amply endowed foundations are leading the charge in California to take advantage of a fairly new law that lets parents wrest control of their local schools from public administrators and make dramatic changes, from curriculum to staffing and everything in between.
The nation's first "parent-trigger" law was passed in California in 2010. The Parent Empowerment Act allows a majority of parents in a low-performing school to petition for changes, including takeover by a charter school operator. Parents have successfully pulled the trigger once in the state, in January, in the small San Bernardino County town of Adelanto.
The parental effort was "assisted" by Parent Revolution, a Los Angeles advocacy group whose largest benefactor is the conservative Walton Family Foundation, according to journalist Gary Cohn. Cohn says that the foundation has contributed $6.3 million since 2009. The Parent Revolution's next largest contributor is the Bill and Melinda Gates Foundation ($1.6 million), the Laura and John Arnold Foundation ($1.5 million), the Wasserman Foundation ($1.5 million), the Broad Foundation ($1.46 million) and the Emerson Collective Education Fund ($1.2 million).
The Walton family is the richest in the world and owns Walmart, the world's largest retailer. Family members and their foundations are major supporters of conservative causes, fund right-wing think tanks like the Heritage Foundation and the Cato Institute, and are among the largest donors to charter schools in the country. They have as much money as the bottom 40% of Americans combined. They want to privatize public education (and just about anything else in the public sector) and bust unions and establish corporate control of schools.
The Laura and John Arnold Foundation is also a major supporter of conservative causes favored by its founder, former Enron trader and libertarian John Arnold. In addition to promoting charter schools, the foundation bankrolls efforts to get rid of public-employee pension funds.
The non-profit Parent Revolution says its goal is empowering collective action by parents to improve the quality of their schools, not necessarily to convert them to charters. They deny being anti-public education or anti-union and promote their "pro-union, pro-reform" positions on their website. Chief Executive Ben Austin, a member of the California State Board of Education and former Los Angeles deputy mayor, denies that contributions from wealthy donors influence the foundation's activities.
Their critics say that is disingenuous. Journalist Robert Skeels describes the organization as "a poverty pimp and privatization pusher collecting a check from plutocrat foundations." The parent-trigger law supported by Parent Revolution and passed in California is based on model legislation developed by the American Leadership Exchange Council (ALEC).
ALEC is a conservative organization funded with corporate money that brings legislators and lobbyists together at conferences where model legislation is crafted for use at local, state and national levels. The real authors of these model laws are often not revealed to anyone outside the circle of 2,000 legislators and 300 corporate members. ALEC has been a strong voice for privatizing government work, weakening unions, fighting President Barack Obama's healthcare reform law and enacting voter ID laws.
Parent Revolution's success in guiding the Adelanto Desert Trails Elementary School's conversion to a charter came amid charges that it had misled parents who thought it was simply about raising standards and improving conditions. The same allegations arose at McKinley Elementary in Compton, where a legal challenge prevented the school from being converted to a charter.
A similar protest at 24th Street Elementary was temporarily resolved last week by an agreement between the Los Angeles Unified School District and a charter school, Crown Preparatory Academy, to jointly operate the under-achieving school. Now, parents will choose whether to continue with the arrangement, turn the school over to Crown Prep, let the district retain control or pick a different charter to run things.
Public schools did not gain a firm foothold in America until the mid-19th century. By 1870, every state provided them for free, supplanting private academies and ushering in a progressive era that saw an expansion of public education, from the far reaches of rural America to the deep recesses of its cities.
Reform movements in the 1980s were spurred by the declining quality of schools and conservative dissatisfaction with progressive educational content, standards and methods. A search for new solutions led directly to President George W. Bush's "No Child Left Behind" in 2002, charter schools, voucher programs and parent triggers.
-Ken Broder
To Learn More:
Public Schools, Private Agendas: Parent Revolution (by Gary Cohn, Frying Pan News)
The Battle Over Charter Schools (by Kristina Rizga, Mother Jones)
Parent Trigger Misfires by Disrupting and Dismantling Local Schools (by Caroline Grannan, Silicon Valley Education Foundation)
California's Parent Trigger (by Patrick Range McDonald, LA Weekly)
Stealth Charter School Campaign Draws Criticism (by Louis Freeberg, California Watch)
Proposal for Parent-Trigger Overhaul at L.A. School Well-Received (by Howard Blume, Los Angeles Times)
ALEC Singled Out for Exemption from Lobbying Law in South Carolina (by Noel Brinkerhoff, AllGov)
Smart ALEC Models This Year's Fashionable Conservatism for Lawmakers (by Ken Broder, AllGov)