Big Pharm and Chemical Lobbying See Huge Spending Growth in 2014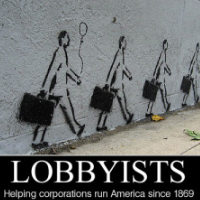 The first three months of 2014 were banner ones for lobbyists representing drug manufacturers, chemical companies and other big-business interests.
These industries significantly ramped up their spending on lobbying in Washington, DC, during the first quarter, according to the Center for Public Integrity and the Center for Responsive Politics.
The biggest of the big spenders was Dow Chemical, which poured $5.15 million into its influence-seeking strategies.
That total "is far and away the most the company has spent in a quarter over the past five years," OpenSecrets.org reported. "Since 2010, the most the company had spent on lobbying in a quarter was $3.83 million."
Dow said in an official statement that the $5 million went to pushing its agenda on issues involving energy, trade and agriculture.
Joining Dow in the lobbying largesse was the American Chemistry Council, which spent $3 million in this year's first quarter after spending $1.9 million during the same period last year. The council's primary objective was to reform the Toxic Substances Control Act, which regulates industrial chemicals.
Another major player in Washington, the pharmaceutical industry, spent more than $65.4 million on lobbying during this year's first quarter. That's a jump of 24% over monies allocated in the fourth quarter of 2013—the largest increase in lobbying expenditures of any industry.
Novartis led the way among pharmaceutical firms with nearly a 170% hike.
Many of its competitors also increased their lobbying budgets: Johnson & Johnson (to $1.25 million), Merck & Co. ($1.18 million), Bayer AG ($990,600), and Pfizer, Inc. ($960,000), Robbie Feinberg and Russ Choma wrote at OpenSecrets.org.
Other notable interests that spent considerably more to sway Congress and the administration were:
· Business Roundtable (representing CEOs of major corporations) with $4.23 million spent in this year's first quarter (a 53% increase over the same period in 2013)
· United Parcel Service ($3.04 million, up from last year's $1.42 million)
· Coca-Cola Co. ($2.6 million from $1.36 million)
· Facebook ($2.78 million—the most it's spent in one quarter since it began lobbying in 2009)
· Grocery Manufacturers Association ($1.12 million from $670,000)
-Noel Brinkerhoff
To Learn More:
Chemical Industry among Big Spenders on Lobbying this Quarter (by Dave Levinthal, Center for Public Integrity)
Chemical, Pharmaceutical Industries See Huge Lobbying Increases (by Robbie Feinberg and Russ Choma, Center for Responsive Politics)
Political Chemistry: The Legal Magic that Makes Corporate Donations Disappear (by Kathy Kiely and Peter Olsen-Phillips, Sunlight Foundation)
Big Chemical Firms behind Small Business Agency Effort to Block Toxic Chemicals Review (by Noel Brinkerhoff and Danny Biederman, AllGov)
"Chemicals of Concern" List Still on Hold after 21 Months of Chemical Industry Lobbying (by Matt Bewig, AllGov)