Automakers Hit with Biggest Ever Penalty for Violating Clean Air Act
Wednesday, November 05, 2014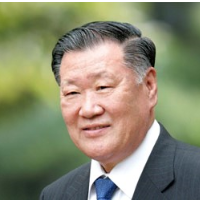 Mong Koo Chung, President and CEO, Hyundai Motor Group (photo: hyundai.com)
Hyundai Motor Co. and Kia Motors Corp. have reached a settlement with the U.S. government to pay a total of $300 million for misleading consumers about the fuel efficiency of their cars.
The deal represents the largest penalty ever for violating the Clean Air Act, according to the Wall Street Journal.
Hyundai and Kia, which are part of Hyundai Motor Group, will pay a combined $100 million in civil fines. They also will lose about $200 million in regulatory credits related to efforts to reduce greenhouse gas emissions into the atmosphere. About $6.3 million of the fines will go to the California Air Resources Board with the balance going to the federal government.
The penalty follows a lawsuit that Hyundai-Kia settled last year over its mileage claims for a total of nearly $400 million. Consumers received an average of about $353 apiece from that settlement.
Hyundai admitted that it overstated its fuel efficiency claims from one to six miles per gallon on more than a million cars. Vehicles included Accent and Elantra compacts, the Veloster sports coupe and the Santa Fe SUV. Kia admitted overstating mileage claims for its Rio and Soul cars.
The carmakers got into trouble when their engineers "chose favorable results rather than average results from a large number of tests," the Environmental Protection Agency (EPA) said in a written statement. The tests for both Hyundai and Kia cars were performed by the same division of Hyundai Motor Group, according to the EPA.
-Noel Brinkerhoff
To Learn More:
U.S. Fines Hyundai, Kia for Fuel Claims (by Joseph B. White, Wall Street Journal)
Hyundai and Kia Clean Air Act Settlement (Environmental Protection Agency)
Hyundai, Kia Blame Car Mileage Exaggeration on "Procedural Errors" (by Matt Bewig, AllGov)