Arizona County has Spent more than $25 Million Defending Sheriff Joe Arpaio
Tuesday, December 24, 2013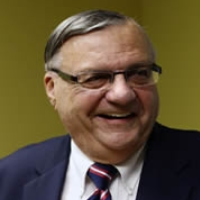 Joe Arpaio (photo: Reuters)
One of the highest profile and most controversial sheriffs in the United States has cost taxpayers $25 million to resolve numerous lawsuits brought against him and his allies.
Maricopa County in Arizona has spent about $24.9 million cleaning up the mess created by Sheriff Joe Arpaio when he and others launched corruption investigations of local officials in 2008, according to The Arizona Republic.
Arpaio and County Attorney Andrew Thomas said at the time that they were out to clean up local politics. But those targeted in the investigations claimed Arpaio was getting back at them for opposing his policies.
Thomas and his deputy Lisa Aubuchon lost their jobs and were eventually disbarred for ethical lapses. Another deputy county attorney, Rachel Alexander, was suspended from practice. David Hendershott, Arpaio's former chief deputy who orchestrated the sheriff's failed corruption investigations, was fired.
"It was a dark time," Board of Supervisors Chairman Andy Kunasek, who also was targeted, told the newspaper. "But I think in the best interest of the county, and I think, everybody we serve, it's time to move forward."
But not before paying out millions of dollars in settlements. A former supervisor, Don Stapley, received $3.5 million to end his case against the county. Another settlement worth $3.75 million went to Phoenix New Times founders Michael Lacey and Jim Larkin, who were targeted by Arpaio.
Eight other plaintiffs, including local judges, also have settled with the county.
"I look at all the things we could do in the county with the amount of money we're spending today, and I'm disappointed that's how I have to use the taxpayers' money," County Manager Tom Manos told The Arizona Republic.
-Noel Brinkerhoff
To Learn More:
County Settles Suits over Arpaio, Thomas (by Michelle Ye Hee Lee, Arizona Republic)
Federal Government Drops Abuse-of-Power Case against Sheriff Arpaio, But More to Come (by Noel Brinkerhoff, AllGov)