$4.1 Million Settlement Vindicates Nuclear Waste Plant Whistleblower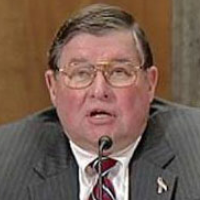 Walter Tamosaitis (photo: U.S. Senate)
In 2011, Walter Tamosaitis raised concerns that a radioactive waste treatment plant in Hanford, Washington, being planned by his employer, engineering firm URS, would not operate as planned. He was subsequently harassed and eventually fired.
But after Tamosaitis' concerns were validated by the Energy Department and some legal twists and turns, he was vindicated last week with a $4.1 million settlement.
Tamosaitis was one of the group developing a technique for turning toxic and radioactive sludge into glass, which theoretically could be buried for thousands of years. However, Tamosaitis began to believe that the process was flawed and would result in a buildup of hydrogen gas and clumps of plutonium which could start a nuclear reaction, according to Ralph Vartabedian of The Los Angeles Times.
Tamosaitis' warnings were taken seriously by the Energy Department and then-Energy Secretary Steven Chu in 2013 ordered the project suspended. Shortly thereafter, Tamosaitis was fired.
Others had raised red flags about the plant's construction as well, but Tamosaitis' prominence in the field of chemical mixing drew the most attention. "The safety culture in the entire Energy Department complex is bad," he said. "The Energy Department needs to clamp down on the contractors. It is systemwide."
Tamosaitis' case was originally dismissed, but when it was reinstated by an appeals court, AECOM, which acquired URS last year, settled. Testing of the mixing system, which was ordered by the Energy Department, has yet to be completed.
-Steve Straehley
To Learn More:
Hanford Nuclear Weapons Site Whistle-Blower Wins $4.1-Million Settlement (by Ralph Vartabedian, Los Angeles Times)
Hanford Whistleblower Settles For $4.1 Million (by Nicholas K. Geranios, Associated Press)
Wisconsin Sen. Johnson Blocks Nuclear Cleanup Whistleblowers from Testifying at Hearing about Nuclear Whistleblowers (by Noel Brinkerhoff, AllGov)
Nuclear Site Safety Official Fired After Her Repeated Warnings of Safety Problems (by Noel Brinkerhoff, AllGov)