3 Federal Agencies that Don't Provide Full Benefits for Same-Sex Couples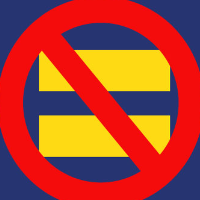 (graphic: Steve Straehley, AllGov)
While most of the federal government now provides full benefits to same-sex couples, three agencies don't as a result of legal restrictions.
When the U.S. Supreme Court nullified a key part of the Defense of Marriage Act, under which the federal government did not recognize same-sex marriages, it was expected the decision would clear the way for all federal workers, including members of the LGBT community, to enjoy full benefits. But the court left open the door to discrimination by not addressing whether states had to recognize same-sex marriages from other jurisdictions.
This situation, combined with an obscure part of federal law, has resulted in the Department of Veterans Affairs (VA), the Social Security Administration (SSA) and the Railroad Retirement Board not providing full benefits to same-sex couples.
The VA says Title 38 of the U.S. Code requires that benefits decisions be based on a person's state of residence, and if that state forbids gay marriage, then the employee is out of luck.
That position is being challenged in court by The American Military Partners Association. "Abundant federal authority," their suit says, "established that excluding married same-sex spouses from spousal veterans benefits and denying legal recognition to their marital statuses violates [constitutional] guarantees of due process and equal protection."
Josh Hicks of The Washington Post says "similar statutes" have also kept the SSA and the Railroad Retirement Board from offering full benefits to workers.
There's little chance that Congress will address the problem. Democrats in both houses have proposed legislation to stop agencies from discriminating against same-sex couples, "but none of the measures have moved out of committee," Hicks reported.
-Noel Brinkerhoff
To Learn More:
Same-Sex Couples Still Fighting for Equality with These Three Federal Agencies (by Josh Hicks, Washington Post)
Test of Gap in Veterans' Benefits for Same-sex Marriages (by Lyle Denniston, SCOTUS Blog)
VA Awards First Benefits to Spouse of Gay Soldier Killed in Afghanistan (by Noel Brinkerhoff, AllGov)