2.4 Million U.S. Financial Records a Day Stolen by Hackers in Last 6 Months
Thursday, October 23, 2014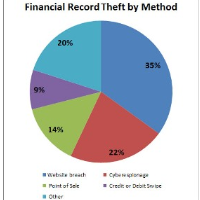 (graphic: Steve Straehley, AllGov)
If there were more than 2 million bank robberies in a single day it would be big news, but that's essentially what's happening at the hands of computer hackers.
In just the last six months, cyber intruders have stolen an average of 2.4 million financial records a day. The number of records hacked over that period reached 439 million with more than 500 million compromised over the past year, according to USA Today.
"We're in a day when a person can commit about 15,000 bank robberies sitting in their basement," Robert Anderson, executive assistant director of the FBI's Criminal Cyber Response and Services Branch, told the paper.
Some of the big name businesses targeted by hackers recently include JPMorgan Chase, Target and Home Depot.
About half of all adult Americans—110 million people—have had their financial data compromised in some way in the past year, according to Tim Pawlenty, the former Republican governor of Minnesota and president of the Financial Services Roundtable. About 80% of businesses don't realize their accounts have been breached until being informed by financial institutions or customers, according to a Verizon study cited by Pawlenty.
-Noel Brinkerhoff, Steve Straehley
To Learn More:
Officials Warn 500 Million Financial Records Hacked (by Erin Kelly, USA Today)
State Governments under Daily Assault from Increasingly Sophisticated Cyber Attacks (by Steve Straehley, AllGov)