U.S. Wasted $7.6 Billion to Fight Poppy Cultivation in Afghanistan…Which is Now at an All-Time High
Thursday, October 23, 2014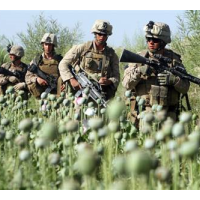 U.S. troops move through Afghan poppy field (photo: David Guttenfelder, AP)
An expensive failure might best describe the United States' effort to curb opium poppy cultivation in war-torn Afghanistan.
Since the start of the war, the U.S. has poured $7.6 billion into counternarcotics operations aimed at stopping poppy production by local farmers, according to the Special Inspector General for Afghanistan Reconstruction (SIGAR). But this investment has not produced the results sought by the U.S. military or the Obama administration.
SIGAR says in a new report (pdf) that "Afghan farmers grew an unprecedented 209,000 hectares of opium poppy in 2013, surpassing the previous peak of 193,000 hectares in 2007. With deteriorating security in many parts of rural Afghanistan and low levels of eradication of poppy fields, further increases in cultivation are likely in 2014." The illicit trade was valued at nearly $3 billion last year.
The bad news includes the fact that those regions that had become "poppy free" as a result of its anti-drug programs were now experiencing a "resurgence in cultivation."
One example cited by SIGAR is Nangarhar province in the eastern part of the country. Six years ago, the United Nations Office of Drugs and Crime declared Nangarhar free of poppy farms. But poppy farming began again and has expanded rapidly. Between 2012 and 2013, there was a four-fold increase in cultivation of opium poppies.
The United Nations Office of Drugs and Crime survey (pdf) revealed similar results. It showed a 36% increase in net poppy cultivation in Afghanistan between 2012 and 2013, with the number of poppy-free provinces dropping from 17 to 15 over that period.
-Noel Brinkerhoff
To Learn More:
Poppy Cultivation In Afghanistan: After A Decade Of Reconstruction And Over $7 Billion In Counternarcotics Efforts, Poppy Cultivation Levels Are At An All-Time High (Special Inspector General for Afghanistan Reconstruction) (pdf)
Afghanistan Opium Survey 2013 (United Nations Office of Drugs and Crime) (pdf)
Inspector General Warns that with Opium Production Skyrocketing, Afghanistan Could become "a Narco-Criminal State" (by Noel Brinkerhoff, AllGov)
Opium Crop in Afghanistan Hits Record High (by Noel Brinkerhoff, AllGov)