U.S. Pays 62% of Afghanistan's Government Expenses
Thursday, September 22, 2011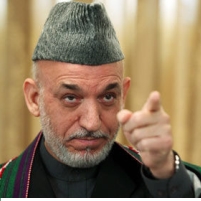 Hamid "Show Me the Money" Karzai. president of Afghanistan
Right now Kabul is not even remotely close to covering the cost of running the country.
During this time period, Afghanistan's budget increased 160%, from $5.5 billion to $14.3 billion. But its revenues rose only 30%, from $620 million to $1.66 billion.
Over the last 10 years the U.S. has allocated more than $72 billion to military and civilian operations in Afghanistan. For fiscal year 2012, President Barack Obama has requested $18 billion "to secure, stabilize, and rebuild Afghanistan." That's about the same amount that the federal government distributes each year to the state of West Virginia and more than it spends on 13 other states.
-Noel Brinkerhoff