U.S. Military Urges Release of Guantánamo Detainee Who Wrote Bestselling Book Detailing Abuse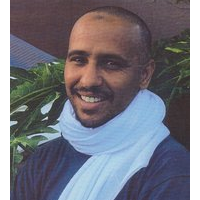 Mohamedou Ould Slahi {photo: Int'l Committee of Red Cross)
By Charlie Savage, New York Times
WASHINGTON — A Guantánamo Bay detainee whose memoir recounting abuse by American interrogators became a best-seller last year has been recommended for transfer out of the wartime prison, the military disclosed on Wednesday.
The detainee, Mohamedou Ould Slahi, 45, is a Mauritanian and the author of "Guantánamo Diary," which he wrote by hand at the prison in 2005.
His lawyers fought for years with the government for permission to publish the book. It finally appeared in bookstores in January 2015 — with many redactions — sold briskly, and has since been optioned for a movie.
Mr. Slahi appeared June 2 before a parole-board-like six-agency panel, the Periodic Review Board, that interviews prisoners and reviews their files. It decides whether they are enough of a threat to national security to continue to be detained. In a July 14 decision memo that was made public on Wednesday, the board determined that Mr. Slahi should be transferred.
"We are thrilled that the P.R.B. has cleared our client," Nancy Hollander, one of Mr. Slahi's lawyers, said in a statement released by the American Civil Liberties Union, which has helped represent Mr. Slahi. "We will now work toward his quick release and return to the waiting arms of his loving family. This is long overdue."
The board also decided to recommend transferring an Afghan, Abdul Zahir. He was long accused of working on chemical and biological weapons for Al Qaeda and the Taliban, but documents showed that intelligence officials decided in 2015 that he "was probably misidentified" and had merely been a bookkeeper and translator for Islamist militants.
Of the 76 detainees remaining at the prison, 31 are recommended for transfer if security conditions can be met in the receiving country.
In a short statement on its "consensus" decision, the board cited Mr. Slahi's "highly compliant behavior in detention."
"The board also noted the detainee's candid responses to the board's questions, to include recognition of his past activities, clear indications of a change in the detainee's mind-set," it said. "Furthermore, the board considered the extensive support network available to the detainee from multiple sources, including strong family connections, and the detainee's robust and realistic plan for the future."
A representative at Mr. Slahi's hearing said the detainee wanted to start a business and write books.
Mr. Slahi studied electrical engineering in Germany and then joined Al Qaeda to help the Afghan anti-Communist resistance in the early 1990s, a time when Osama bin Laden's mujahedeen fighters were backed by the United States.
He returned to Germany and later crossed paths with one of the accused plotters of the 9/11 attacks. Mr. Slahi was back in Mauritania by the time of those attacks, and he was arrested and sent to Jordan, which later transferred him to the United States.
Mr. Slahi was taken to Guantánamo and in 2003 was subjected to a special interrogation approved by Defense Secretary Donald H. Rumsfeld. Mr. Slahi wrote of extensive sleep deprivation, beatings, dousings with ice water, and of being shackled for days in a freezing cell. He denied involvement with terrorism and was never charged with a crime.
When Mr. Slahi's memoir was published, Mark Danner wrote in The New York Times Sunday Book Review that it was "the most profound account yet written of what it is like to be" collateral damage from the American response to the 2001 attacks.
To Learn More:
Current Guantánamo Prisoner Publishes Book about his Experiences (by Noel Brinkerhoff, AllGov)
Guantánamo Prisoner Caught in Al-Qaeda Catch 22 (by David Wallechinsky and Noel Brinkerhoff, AllGov)