U.S. Losing its Dominance as Mecca for Immigrants with College Degrees
Tuesday, January 06, 2015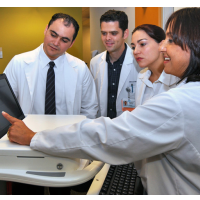 Immigrant doctors working at UCLA (photo: UCLA)
The United States used to be the preferred destination of choice for college-educated immigrants looking for new opportunities. But the U.S. has lost some of its attractiveness, according to a new study (pdf).
Researchers from the U.S. and Europe found the U.S. dominance for pulling in doctors, computer engineers and other skilled professional from other countries began to wane this century. They noticed a decrease in these types of immigrants from 2000 to 2012 entering the U.S., whether the individuals held bachelors, masters or PhD degrees.
This drop in the number of professionals who migrate to the U.S. may, to some degree, be the result of many immigrants choosing an Asian country as their new home. "Our analysis… reveals the growth of Asia as a major professional migration destination during the past twelve years," the researchers wrote.
One bright spot in the research, they said, was "a recent rebound in the percentage of international students who choose the United States as their destination." Additionally, the study "confirms that the United States is, in absolute terms, the top destination for international migrants."
A 2011 survey conducted by the U.S. Census Bureau determined that immigrants made up 16% of the nearly 60 million college-educated people in the U.S. at that time, according to the agency's American Community Survey. The percentages were higher in such professions as medical scientist (47%), computer programmer (31%) and doctor (28%).
The researchers of the new study based their conclusions on an analysis of career history data on millions of users of the professional networking site LinkedIn.
-Noel Brinkerhoff, Danny Biederman
To Learn More:
Migration of Professionals to the U.S. (by Bogdan State, Mario Rodriguez, Dirk Helbing and Emilio Zagheni) (pdf)
College-Educated Immigrants in the United States (by Qingqing Ji and Jeanne Batalova, Migration Policy Institute)