U.S. Defies Chinese Communists, Sells Black Hawk Helicopters and Patriot Missiles to Taiwan
Monday, February 01, 2010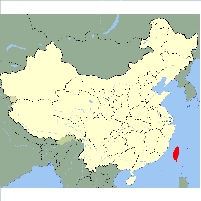 China (yellow) and Taiwan (red)
Twenty-one years ago the United States and Taiwan agreed to the Taiwan Relations Act of 1979, which states that the US will supply Taiwan with arms to defend itself against a attack from mainland China. On January 29, 2010, the United States approved a $6.4 billion sale of military defense equipment to Taiwan that included 60 Black Hawk helicopters worth $3.1 billion and 114 Patriot Missiles worth $2.82 billion. The move is comparable to former President George W. Bush's $6.6 billion arms sale to Taiwan in 2008, which featured Apache helicopters and Patriot III anti-missile missiles.
The American manufacturer Sikorsky Aircraft manufactures the Black Hawk helicopter, while the Patriot Missile is a surface-to-air defense missile manufactured by Raytheon, the fourth largest defense contractor in the US. Both companies also do business with China. Raytheon provides radar and traffic management systems, while Sikorsky operates a major helicopter production factory in Shanghai.
The US government held firm in refusing to sell F-16 fighter planes to Taiwan, a stance it has held since 1992. Regardless, the Obama administration's actions enraged Chinese officials and damaged their delicate diplomatic relations.
The Chinese embassy in Washington, D.C., released a statement saying, "We believe this move endangers China's national security…such an arms sale to Taiwan constitutes an intervention into China's internal affairs and peaceful reunification effort." China experts believe that China is likely to cut off military-to-military cooperation with the US and boycott Obama's planned nuclear summit in April, where they plan to discuss future action in Iran and North Korea. China has already put security changes with the US on hold and threatened the Americans with trade sanctions. The relationship could even further deteriorate if Obama chooses to meet with the Dalai Lama.
-Justin Tang