U.S. Ambassador Investigated by Thai Police for His Criticism of a Law That Criminalizes Criticism of the Law
Saturday, December 12, 2015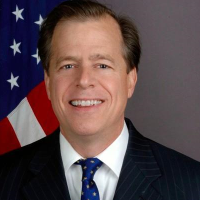 U.S. Ambassador Glyn Davies
Thailand's military government is investigating U.S. Ambassador Glyn Davies for his criticism of a Thai law that bans criticism of the monarchy.
Davies got into trouble for a speech last month highlighting the prison sentences, which can exceed 25 years, that Thais have received for making remarks perceived as criticism of King Bhumibol Adulyadej, who is revered by Thais.
The government launched its probe of Davies after receiving a complaint from Sonthiya Sawasdee, "a representative of a fringe group that calls itself the Federation to Monitor the Thai State," according to The Washington Post. Military officials admitted nothing will come of the investigation because Davies has diplomatic immunity and can't be prosecuted under Thai law. Also, an attorney who has represented others in these cases said the case against Davies is weak because he didn't target the king himself, but the law that forbids criticism of the monarchy.
Human rights group Amnesty International blasted the Thai regime for investigating Davies, calling it an example of the "current absurd extremes of Thailand's restrictions on freedom of expression."
The anti-criticism law used against Davies was also used against the country's prime minister, Thaksin Shinawatra, in 2006 when he was overthrown in a coup for allegedly disrespecting the king.
The position of King Bhumibol Adulyadej has become an even more sensitive issue recently because the 88-year-old monarch is in poor health, raising worries about who will succeed him.
-Noel Brinkerhoff
To Learn More:
Thai Police Probe U.S. Envoy over Comments about Monarchy Law (by Grant Peck, Associated Press)
Thai Police Investigate U.S. Ambassador on Suspicion of Insulting King (by Thomas Fuller, New York Times)
Thai Police Investigating U.S. Ambassador After He Criticizes Law That Penalizes People Who Criticize (by Jaime Fuller, New York)