This is the Only Country that Ranks Worse than North Korea on the World Press Freedom Index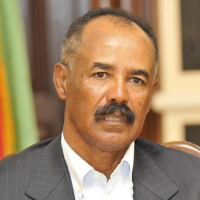 Isaias Afwerki
North Korea is often criticized—and rightly so—for its lack of freedoms, including freedom of the press. But North Korean dictator Kim Jong-un is surpassed in his ability to stifle the media by the government in Eritrea, according to Reporters Without Borders (RSF). RSF has awarded Eritrea last place on its World Press Freedom Index for seven straight years. Of the 223 journalists imprisoned around the world, 23 are in Eritrea.
The only press allowed in Eritrea is that which is controlled by the government and even then the journalists are not safe. Thirteen employees of an education ministry radio station were imprisoned for five years without being told why, according to Reporters Without Borders.
Journalists not working for the government are just not allowed. At least eleven have been imprisoned, with at least seven of those dying while in custody. Conditions are brutal, with some prisoners being held in shipping containers in the desert.
One of those not accounted for is Dawit Isaak, an independent journalist with dual Eritrean and Swedish nationality. He was arrested in September 2001 along with several other independent editors. On June 2 of this year, Isaak's family and supporters marked the 5,000th day of his captivity by setting up a small cell in central Stockholm and inviting people to sit in it for 15 minutes at a time.
Don't count on any improvement coming to Eritrea. President Isaias Afwerki, who has been in power since Eritrea became independent in 1993, has said: "Those who think there will be democracy in this country can think so in another world."
Americans though, shouldn't point too many fingers at the Eritreas and North Koreas of the world. The United States ranks only 49th on the list, not quite as free as Burkina Faso and Niger. Three Scandinavian countries—Finland, Norway and Denmark—lead the list.
-Steve Straehley, David Wallechinsky
To Learn More:
World Press Freedom Index—Eritrea (Reporters Without Borders)
2015 World Press Freedom Index (Reporters Without Borders)
Sweden Marks 5,000 Days Journalist Held without Trial in Eritrea (DPA/Europe Online Magazine)
Radio Erena – Independent Voice for Eritrea (Reporters Without Borders)
Inside the Secretive State of Eritrea (by Yalda Hakim, BBC News)