Texas and California Account for One Quarter of U.S. Jobs Dependent on Exports
Thursday, September 11, 2014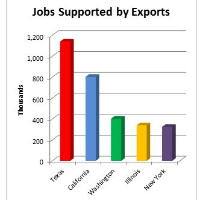 (graphic: Steve Straehley, AllGov)
Just two states account for more than 25% of all jobs in the U.S. that depend on the strength of American exports, new federal statistics show.
Not surprisingly perhaps, these two states are also the nation's most populous: California and Texas. The Lone Star State accounts for 16% of all jobs dependent on exports, the highest rate in the U.S., according to the Department of Commerce. California is second, with 11%. The two states make up 20% of the population of the United States.
"This new research provides further evidence that exports are strengthening our economy and creating good jobs," Commerce Secretary Penny Pritzker said in a press release. "The fact is that exports have been the driving force behind growth in states and communities across the country, and exports account for nearly all of the post-recession growth in cities like Youngstown, Detroit, and Kansas City."
Pritzker added that about 30% of economic growth since the Great Recession has come about from exports. All told, the jobs of 11.3 million Americans rely on exports for funding.
Other top export-dependent job states include Washington at 6%; and Illinois and New York, both at 5%.
-Noel Brinkerhoff
To Learn More:
New U.S. Department of Commerce Reports Demonstrate Exports Continue Helping Spur U.S. Economy and Supporting Jobs (Department of Commerce)
Jobs Supported by State Exports 2013 (International Trade Administration) (pdf)