Tensions for U.S. Military in Japan Spike after Sailor's DUI Crash, Prompting Navy Drinking Ban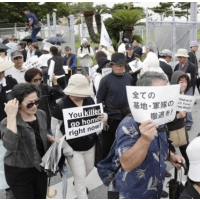 Anti-U.S. military protesters on Okinawa, May 2016 (photo: Getty Images)
By Jonathan Soble, New York Times
TOKYO — The U.S. Navy imposed a drinking ban on its roughly 19,000 personnel in Japan on Monday, ordering them confined to their bases after a sailor who was thought to have been drinking was arrested on the island of Okinawa in connection with a car accident that left two Japanese civilians injured.
The accident on Saturday occurred at a tense time for the U.S. military in Japan, and especially on Okinawa, a small southern island that is home to about half of the 50,000 U.S. soldiers and sailors stationed in the country.
The U.S. forces on Okinawa were already under curfew after a Marine veteran who was working as a civilian contractor at a base there was arrested last month in connection with the killing of a local woman.
The arrest caused a public outcry and prompted U.S. commanders to impose a 30-day nighttime curfew on military personnel on the island and to prohibit their drinking in public.
Resentment against the U.S. presence has been on the rise on Okinawa, driven by concerns over crime and by an unpopular plan to build a new Marine Corps airfield in the northern part of the island.
In local elections on Sunday, voters gave an expanded majority in the Okinawa Prefectural Assembly to politicians who oppose the airfield and want to reduce the U.S. military presence.
The Japanese foreign minister, Fumio Kishida, raised the possibility of the accident being the result of drunken driving with the U.S. ambassador, Caroline Kennedy, the Foreign Ministry said. The defense minister, Gen Nakatani, called the case "extremely regrettable," according to members of the Japanese news media who were traveling with him to a meeting of security officials in Singapore.
The police identified the sailor involved in the car accident as Petty Officer Second Class Aimee Mejia, 21. They said her car had crossed the centerline of a highway shortly before midnight on Saturday and had struck two other vehicles. Mejia was not hurt, but a 35-year-old woman and a 30-year-old man in the other cars were, the police said.
Mejia was in police custody on Monday but has not been formally charged, a development that can take several weeks in Japan.
Lt. Gen. John L. Dolan, commander of U.S. forces in Japan, said the military had "zero tolerance for driving under the influence," and that any member of the military convicted of doing so "faces severe consequences."
To Learn More:
Okinawa Governor Halts Construction of U.S. Marine Corps Air Base (by Steve Straehley, AllGov)
Hundreds in U.S. Military Guilty of Sex Crimes in Japan got Slap on Wrist (by Noel Brinkerhoff, AllGov)
Japanese Government Agrees to Spend $3 Billion to Boot U.S. Marines out of Okinawa (by Noel Brinkerhoff, AllGov)