Republican- and Democratic-Appointed Judges Clash in Decision about Responsibility for Reporting Conflict Minerals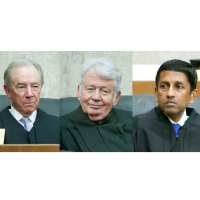 Judges Raymond Randolph, David Sentelle and Sri Srinivasan
A ruling from the District of Columbia District Court of Appeals shows once again that elections do have consequences, particularly involving the appointment of federal judges.
A three-judge panel voted 2-1 Tuesday to strike down a law requiring companies to disclose to the Securities and Exchange Commission (SEC) when their products contain minerals from conflict areas in central Africa in and surrounding the Democratic Republic of the Congo (DRC). The opinion was written by George H.W. Bush appointee Raymond Randolph and joined by David Sentelle, a Ronald Reagan appointee. A 29-page dissent was written by Barack Obama appointee Sri Srinivasan.
The 2010 mandate specifies that companies complete a form with the "description of the measures taken ... to exercise due diligence on the source and chain of custody of such minerals," and "a description of the products manufactured or contracted to be manufactured that are not DRC conflict free," according to the statute.
Although the law doesn't require any labeling on individual products, companies have fought the regulation since its inception, claiming the disclosures are compelled speech which violates their First Amendment rights. A trial-court judge upheld the rule, but the D.C. Circuit agreed last year with the plaintiffs. The court agreed to hear the appeal again this year based on a new Supreme Court precedent, but came up with the same ruling the second time around.
Randolph, in finding for corporate interests, claimed the disclosure requirement would cause companies to avoid doing business in central Africa. He then professed concern for African miners. "Because of the law, and because some companies in the United States are now avoiding the DRC, miners are being put out of work or are seeing even their meager wages substantially reduced, thus exacerbating the humanitarian crisis and driving them into the rebels' camps as a last resort," he wrote. The SEC has the burden of proving its rule would help the humanitarian crisis, according to Randolph.
Srinivasan disagreed with the majority, writing that "requiring a company to disclose product information in the commercial marketplace is not the same as requiring Hester Prynne to 'show her scarlet letter in the town marketplace.'" He further argued that even if Congress did not anticipate all the repercussions of the rule, "the law was reasonably designed to further its aim of reducing funding for armed groups through the conflict minerals trade."
It's unlikely Randolph's opinion is the final word on the subject. The government may now ask the full D.C. Circuit to hear the case.
-Steve Straehley
To Learn More:
D.C. Cir. Dumps 'Conflict Minerals' Disclosure Rule (by Lorraine Bailey, Courthouse News Service)
SEC's Disclosure Requirement on Conflict Minerals Again Ruled Unconstitutional — What Now? (by Jessica S. Lochmann, Frank S. Murray and Mark T. Plichta, National Law Review)
D.C. Court Unleashes Conflict By Throwing Out Conflict-Minerals Rule (by Daniel Fisher, Forbes)
National Association of Manufacturers, et al., v. Securities and Exchange Commission, et al. (U.S. Court of Appeals for the D.C. Circuit) (pdf)
Mining Companies Ask for Delay in SEC Conflict Minerals Ruling (by Noel Brinkerhoff, AllGov)