Remember Haiti? Cholera Cases Could Top 750,000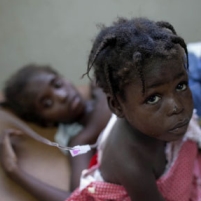 Cholera victims in Haiti (AP Photo: Ramon Espinosa)
A new study warns that nearly 780,000 cholera cases could develop in 2011, with the disease killing about 11,000. The UN had estimated 400,000 cases of the diarrheal disease for Haiti.
So far, 231,070 cholera cases and 4,549 deaths have been reported by the Haitian government. Prior to the earthquake last year that destroyed much of the island's infrastructure and produced unsanitary conditions, Haiti had not experienced a single cholera case in more than 100 years.
UCSF medical resident Sanjay Basu, MD, has warned that the "epidemic is not likely to be short-term."
"It is going to be larger than predicted in terms of sheer numbers and will last far longer than the initial projections," Basu added.
-Noel Brinkerhoff