Red Cross took in $488 Million for Haiti…and Built 6 Houses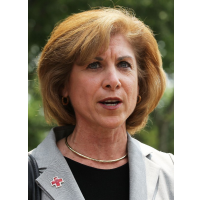 American Red Cross CEO Gail McGovern (photo: Alex Wong, Getty Images
In the wake of the January 2010 earthquake that hit near Port au Prince, Haiti, millions of Americans pitched in and donated to relief funds, much of it to the American Red Cross (ARC). Now, a report says that little of the $488 million sent to that organization has actually gone into rebuilding the country.
According to reporting by ProPublica and NPR, the Red Cross' ambitious plan to "develop brand-new communities" never materialized. Its claim that it built houses for more than 130,000 Haitians was a slight exaggeration; it actually built six houses. Other plans to improve the country's infrastructure have also come up far shorter than planned.
"The depth and breadth of what we do continues to amaze even me," said Gail McGovern, president and CEO of the American Red Cross, who spoke at an event honoring the first anniversary of the Haiti quake.
The ARC claims to have helped 4.5 million people in the aftermath of the quake. Some are questioning those numbers, and not just because only 10 million people live in Haiti. Overcounting and double-counting of those helped was common, according to the report. Other numbers were made to sound better than they were. Many of the 130,000 for whom the ARC claimed it had provided shelter were actually "trained in construction techniques." A worthy pursuit, perhaps, but not the same as providing a roof over someone's head.
The other numbers called into question have to do with the amount of money raised that is actually spent on relief. ARC has long claimed that 91% of the money donated goes to relief efforts. Not only are some additional funds going to project management, but the Red Cross also passes on donations to other charities to do some of its work. Those charities also have overhead costs, which cut even further into the money that's supposed to be destined for victims. On one project, only about 60% of the money actually went into improving temporary shelters.
ARC itself has refused to provide specific breakdowns of where its money was spent in Haiti.
The organization did cite the difficulty in working in Haiti as reason for its failure to complete some of its promised projects. And it's true that the government and laws there can be tough to navigate. But ARC compounded the problems by having few Haitians on its staff, relying instead on foreigners who neither spoke the local languages (French and Creole) nor were familiar with local ways of doing business.
Non-Haitian project managers cost more as well, with one making $140,000 a year in salary and housing, while a top-ranked Haitian senior engineer made only $42,000. "For each one of those expats, they were having high salaries, staying in a fancy house, and getting vacation trips back to their countries," Shelim Dorval, a Haitian administrator who worked for the Red Cross coordinating travel and housing for expatriate staffers, told ProPublica and NPR. "A lot of money was spent on those people who were not Haitian, who had nothing to do with Haiti. The money was just going back to the United States."
Poor treatment of Haitian employees by Red Cross officials was also cited by the report. A 2011 memo written by Judith St. Fort, then-director of the Haiti program, said that "very disturbing" disparaging remarks had been made about Haitian employees by senior ARC mangers. Those comments included, "he is the only hard working one among them" and "the ones that we have hired are not strong so we probably should not pay close attention to Haitian CVs."
Jean Flaubert, the head of a community group established by the Red Cross during its work in the hard-hit town of Campeche, told ProPublica and NPR, "What the Red Cross told us is that they are coming here to change Campeche. Totally change it. Now I do not understand the change that they are talking about. I think the Red Cross is working for themselves."
ARC's failings in Haiti are "part of a larger pattern in which the organization has botched delivery of aid after disasters such as Superstorm Sandy," said the report. Yet, in spite of the facts, "the Red Cross remains the charity of choice for ordinary Americans and corporations alike after natural disasters."
-Steve Straehley, Danny Biederman
To Learn More:
How the Red Cross Raised Half a Billion Dollars for Haiti—and Built Six Homes (by Justin Elliott, ProPublica; and Laura Sullivan, NPR)
The Red Cross CEO Has Been Serially Misleading About Where Donors' Dollars Are Going (by Jesse Eisinger and Justin Elliott, ProPublica; and Laura Sullivan, NPR)
The Red Cross' Secret Disaster (by Justin Elliott and Jesse Eisinger, ProPublica; and Laura Sullivan, NPR)
Red Cross Claims Details of Hurricane Sandy Spending are a "Trade Secret" (by Noel Brinkerhoff, AllGov)