Pope Taps Junipero Serra for Sainthood despite Pesky Complaints of Genocide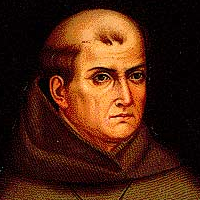 Junipero Serra
Pope Francis announced Thursday he will declare Junipero Serra, the 18th century Spanish Franciscan who founded nine California missions, a Roman Catholic saint during his trip to the United States later in the year.
The pope said he would bypass the usual requirement that the candidate perform a second verified miracle, although critics might consider receiving a sainthood designation in the face of their complaints that Serra practiced genocide as pretty extraordinary.
The pope will visit Philadelphia in September and might go to Washington D.C. and the United Nations in New York. A Serra sainthood could put California on the agenda.
The friar and the Spanish military changed the New World after his arrival in 1769. He built the first of California's 21 missions that served as focal points for taking control of the land occupied by the indigenous Native Americans. While some regard him as a "gentle padre who loved Indians," others consider him a "ruthless imperialist who unleashed the calamity of the missions."
Christians laud Serra for his tireless, impassioned efforts to convert Indians to the faith. Pope John Paul II beatified him in 1988. Others see the forced, if not brutal, denial of their native faith in a different light. The missions have been likened by critics to religious forced labor camps rather than churches.
A 2013 exhibit at the Huntington Library, Art Collections and Botanical Gardens in San Marino, "Junípero Serra and the Legacies of the California Missions," ran a list of 80,000 baptized Indians on a video loop.
Although it is believed that disease had already taken a toll on the native population before Serra's arrival, malaria and smallpox brought by the colonizers ravaged them afterward. The population dropped from an estimated 300,000 at his arrival to half that much by 1846.
While his saintliness might be open to debate, his impact on the region is not. Serra secured the Spanish foothold in the region and established a mission system that served as a bulwark for development of the region by settlers.
Rupert and Jeannette Henry Costo, editors and contributors to "The Missions of California: A Legacy of Genocide," agreed, sort of. The driving force behind the missions was "greed for expansion on the part of the Spanish Crown; greed for recognition on the part of the Franciscan friars, and greed for mercenary gain on the part of the Roman Catholic Church itself," they wrote. "It was mindless, unconscionable greed."
As for the soon-to-be sainted Serra, they consider him "an arrogant, opinionated, hypocritical Inquisition commissioner, whom we classify as a bigot and whom history holds responsible for the decimation of hundreds of thousands of Indian people."
-Ken Broder
To Learn More:
Pope Francis Proclaims Junipero Serra Will Become a Saint (by Carl Nolte, San Francisco Chronicle)
Pope Says to Canonize Junipero Serra During U.S. Visit (by Philip Pullella, Reuters)
Pope Francis Announces Plan to Canonize Junipero Serra (by Carol J. Williams, Los Angeles Times)
Genocide and the Indians of California, 1769-1873 (by Margaret A. Field, University of Massachusetts, Boston)
Short Overview of California Indian History (California Native American Heritage Commission)