Pfizer Pays $60 Million for Bribing Foreign Doctors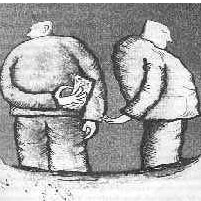 Foreign subsidiaries of Pfizer spent years bribing foreign doctors and healthcare officials to expand sales of the company's pharmaceuticals, according to a $60 million settlement reached with the U.S. government.
"Pfizer subsidiaries in several countries had bribery so entwined in their sales culture that they offered points and bonus programs to improperly reward foreign officials who proved to be their best customers," Kara Brockmeyer, an SEC official, said in a
news release
. "These charges illustrate the pitfalls that exist for companies that fail to appropriately monitor potential risks in their global operations."
In China, a subsidiary awarded doctors with points for every Pfizer prescription they wrote, allowing them to redeem the points for medical books, cell phones, and other gifts. In some cases, Pfizer's China operation bribed physicians with free trips abroad.
Pfizer officials in the U.S. reportedly learned of the bribes in 2004 and began in internal investigation that kept federal regulators in the loop on what they discovered. The company insisted its executives knew nothing about the schemes before then.
-Noel Brinkerhoff
To Learn More: