Outsourcing Firms Overrun H-1B Visa Program, Squeezing Out U.S. Jobs
Thursday, November 12, 2015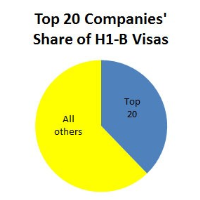 (graphic: Steve Straehley, AllGov)
A federal immigration program created to help American companies hire foreign workers with special skills has been overrun with applications by outsourcing firms, and in the process, has cost U.S. citizens employment opportunities.
Each year in April, immigration officials accept applications for H-1B visas, which are awarded through a lottery system. Each year, 85,000 are granted. Increasingly large global outsourcing companies have flooded the system with applications, according to The New York Times, boosting their odds of getting H-1Bs and diminishing those of individuals trying to get one. One firm, Tata Consultancy Services, obtained 5,650 of the available visas last year.
Ronil Hira, a professor at Howard University who studies visa programs, told the Times that "outsourcing companies are squeezing out legitimate users of the program," resulting in the H-1Bs "pushing jobs offshore." In addition to India-based Tata, the top companies receiving H-1B visas in recent years, Hira discovered, include Infosys and Wipro, based in India; Cognizant, which is headquartered in New Jersey; and Accenture, based in Ireland.
These firms have used the visas to relocate their employees, many of them temp workers and mostly from India, to the U.S., where they are taking jobs Americans could do.
The Times' Julia Preston reported federal law requires global companies using H-1B workers to sign a declaration saying they will not displace Americans. "But there is a loophole: An exemption cancels that requirement if employers pay H-1B workers at least $60,000 a year — significantly less than an experienced technology worker's salary in many parts of the country," Preston wrote.
The consulting companies make so much money from undercutting salaries that they're able to afford the $4,000 that each application in the visa lottery can cost. This also has the effect of squeezing out smaller companies with legitimate needs for a few talented workers from overseas. Many of them can't afford to submit several applications in the visa lottery for one or two employees.
-Noel Brinkerhoff
To Learn More:
Large Companies Game H-1B Visa Program, Costing the U.S. Jobs (by Julia Preston, New York Times)
Top H-1B Expert Slams Marco Rubio for Misrepresenting Contents of his Foreign Worker Plan (by Julia Hahn, Breibert)
American Workers Clash with Homeland Security Dept. over Hiring of Spouses of Foreign Workers (by Noel Brinkerhoff and Ken Broder, AllGov California)
Program to Import "Needed" Tech Workers Displaces 400 Laid-Off SoCal Edison Workers (by Ken Broder, AllGov California)