Oscars 2018: Foreign Language Films Part Two—The 5 Nominees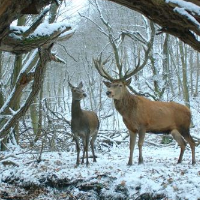 On Body and Soul
This year a record 92 countries entered films in the foreign language category of the Academy Awards. As I mentioned in Part One, I saw 89 of these films. I would recommend many of the non-nominees, and I will get to these in Part Three. The nominees themselves are certainly of interest, so here are my opinions.
Hungary—On Body and Soul (Teströl és lélekröl)
As someone who wrote a short novel subtitled A Tale from the Fringe of Reality, it's not surprising that I would be attracted to a film about two people who discover that each night they share the same dream. Endre is the financial director of a slaughterhouse and Mária is the newly-hired quality control inspector. Endre seems resigned that his life is not what he hoped it might have been. Mária is extremely shy, socially awkward and obsessive-compulsive.
One day it's discovered that someone has stolen a vial of bovine sex stimulant. The police are called in, as is a corporate psychiatrist who interviews each slaughterhouse employee. In the course of his interview, Endre describes a recurring dream in which he is a stag, with a doe nearby, in a quiet, snow-covered forest. When Mária gets her turn, she describes the same dream, but from the doe's point-of-view. The psychiatrist assumes they are playing a prank on her, but when she calls them together, Endre and Mária are stunned to discover their shared unconscious.
The painfully awkward and touching path that Endre and Mária follow to try to come together is contrasted with the brutal and gory daily work at the slaughterhouse.
After watching Of Body and Soul, I couldn't help but think about the characters' shared dreams as a metaphor for less literal shared dreams. Walking down the street in The Hague (which is where I happened to see the film), I looked at peoples' faces and wondered how often we pass by strangers without realizing that this one or that one has the same hopes and dreams that we do.
Director Ildikó Enyedi's first feature film in 18 years, Of Body and Soul won the top prize at the Berlin Film Festival.
Lebanon—The Insult (L'insulte)
Lebanon has produced several excellent films in recent years, and now it has finally earned an Oscar nomination. In The Insult, a minor personal conflict smolders, grows and then explodes into a major national incident. Palestinian Kamel El Basha, who once spent two years in an Israeli prison for his political activism, won the best actor award at the 2017 Venice Film Festival for his portrayal, in The Insult, of Yasser Abdallah Salameh, a Palestinian refugee who works as a foreman for a construction crew that is fixing code violations in a Christian neighborhood. When he tells car garage owner Tony Hanna that he needs to make repairs in his house, Tony slams the door in his face. Out on the street, Yasser and his crew fix Toni's faulty drain pipe anyway, whereupon Toni smashes the new pipe. Yasser calls Tony a vulgar name, and to say that one thing leads to another is putting it mildly.
Yasser's boss persuades Yasser to visit Tony at work and apologize to him for the insult. But when Yasser arrives at the garage, Tony is watching a video of the anti-Palestinian right-wing Christian politician Bachir Gemayel, who was assassinated (by a rival Christian) in 1982. Yasser is quietly outraged. Tony tells him, "I wish Ariel Sharon had wiped you all out." Yasser punches Tony, breaking two of his ribs, for which he is arrested.
Soon, a flamboyant Christian lawyer, Wajdi Wehbe, intervenes to represent Tony, while Wehbe's daughter, Nadine, volunteers to be Yasser's lawyer. Both sides bring in examples from recent Lebanese history of atrocities committed against their side.
There are many interesting sidelights in The Insult. For example, the wives of both Yasser and Tony try to calm their spouses, but angry men don't listen to reasonable women.
Director and screenwriter Ziad Doueiri, who graduated from the University of California-San Diego, is Muslim. His co-screenwriter, Joelle Touma, is Christian. In September 2017, when he landed in Beirut after the Venice Film Festival, Doueiri was detained, apparently because his 2012 film, West Beirut, was partly filmed in Israel. He was released without charges.
Sweden—The Square
The winner of the Palme d'Or at the Cannes Film Festival, The Square is a fascinating compilation of set pieces that are held together through the life of Christian (Claes Bang), the curator of an art museum that is trying to launch a new, experimental show. The problem with The Square is demonstrated by the difficulty its promoters have had settling on the best way to market the film. For example, the poster they chose portrays actor Terry Notary, who appears in only one scene. The film was originally pitched as a satire of the art world, and this is certainly the crux of the plot. But on a more personal level, it's really about an appealing intellectual who makes a series of terrible and easily avoidable bad decisions.
There are two particularly amusing scenes that deal with Christian's interactions with art journalist and groupie Anne (Elisabeth Moss). In the first, Anne asks Christian to explain the description of a workshop she found on the museum's website: "Exhibition, Non-Exhibition, an evening conversation that explores the dynamic of the exhibitable and the construction of publicness in the spirit of Robert Smithson's sites and non-sites, from non-sites to site, from non-exhibition to exhibition, what is the topos of exhibition non-exhibition in the crowded moments of mega-exhibition?" Later, Anne and Christian have sex and argue about who should take charge of disposing of the semen-filled prophylactic.
There's a lot going on in The Square. I've read analyses that discuss the themes of trust, art world hypocrisy, compassion hypocrisy, etc. But, in the end, as I said, the message is that you can be intelligent, handsome, sophisticated and well-respected, and still make really stupid decisions—frequently.
By the way, I'm a fan of director Ruben Östlund's previous film, Force Majeure.
Chile—A Fantastic Woman (Una Mujer Fantástica)
Marina (Daniela Vega) is a waitress and nightclub singer who has a loving relationship with Orlando, an older divorced man. The night of his birthday, Orlando suffers an aneurysm and falls down the stairs. Marina rushes him to a hospital, but he dies. This sudden shock would be tragic enough for Marina, but what follows is more complicated because Marina is transgender. Although Orlando's brother is sympathetic to Marina, Orlando's ex-wife, their son and the rest of his family are hostile. She is investigated by the police, told not to attend the funeral and has to find her own path to mourning. The filmmakers have gained a lot of credit for casting a transgender actress to play Marina, and Vega does a remarkable job.
Some foreign friends of mine have asked me why transgender issues are so often in the news in the United States considering that barely one-half of one percent of Americans self-identify as transgender. In a way, I suppose they serve as an inspiration for many other marginalized minority groups. At any rate, A Fantastic Woman portrays the obstacles faced by transgender women as well as any film has.
Russia—Loveless (Nelyubov)
Nominated three years ago for Leviathan, director Andrey Zvyagintsev is back with another bleak portrayal about unhappy parents and an unhappy son. I'd be curious to know what Zvyagintsev's parents think of his oeuvre. The winner of the London Film Festival, Loveless has been much-praised by critics. I understand, because it's well-made on all levels. However, it is just too bleak for my taste.
Boris and Zhenya are in the throes of an ugly divorce. Even though they have both found new partners, they still share an apartment. The victim of this extreme discord is their 12-year-old son, Alyosha. After overhearing a particularly violent argument and realizing that he is the product of an unplanned pregnancy, Alyosha disappears. Boris and Zhenya are forced to work together to locate their son, but instead of bringing them closer, it serves as yet another reason to hate each other. The police are too overwhelmed with other matters to be helpful, so the parents turn to a truly admirable nonprofit organization that specializes in searching for missing children. These well-organized volunteers contrast with the materialism and selfishness we are shown in the new Russia.
-David Wallechinsky
Oscars 2018: Foreign Language Films Part One—Bad Films and Obscenities (by David Wallechinsky)
Oscars 2018: Foreign Language Films Part Three—The Best of the Non-Nominees (by David Wallechinsky)