NSA Monitors the Phones of at least 35 World Leaders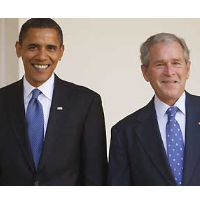 Snoopers-in-chief
It would be an understatement to say that the National Security Agency (NSA) and President Barack Obama had a bad week. First came the news that the NSA spied on millions of French phone calls and texts. The week grew worse when it came out that the agency had tapped the cell phone of German Chancellor Angela Merkel for more than ten years. Then it was been revealed that the NSA had monitored the phones of at least 35 world leaders.
Using an NSA document provided by whistleblower Edward Snowden, The Guardian reported that the U.S. spy agency snooped on foreign leaders' phone conversations after obtaining the numbers from officials within the Executive Branch, including the White House, the State Department and the Pentagon.
One unidentified U.S. official gave the NSA more than 200 numbers, including those of the 35 world leaders, none of whom was named in the NSA document.
The NSA memo, which was produced in 2006, also suggested that such surveillance was routine, although it had produced "little reportable intelligence."
"In the wake of the Merkel row, the U.S. is facing growing international criticism that any intelligence benefit from spying on friendly governments is far outweighed by the potential diplomatic damage," The Guardian's James Ball wrote.
On Thursday, officials in Germany were still smarting over the NSA listening in on Merkel's cell calls. White House press secretary Jay Carney did little to calm the situation when he denied any present and future monitoring of the German leader's phone, while avoiding any mention of past surveillance.
Merkel accused the Obama administration of breaching its allies' trust.
"We need to have trust in our allies and partners, and this must now be established once again. I repeat that spying among friends is not at all acceptable against anyone, and that goes for every citizen in Germany," Merkel told the media after arriving in Brussels for a European Union summit.
-Noel Brinkerhoff
To Learn More:
NSA Monitored Calls of 35 World Leaders After US Official Handed Over Contacts (by James Ball, The Guardian)
Germany and France Propose Talks With U.S. to Rein In Spying (by James Kanter, New York Times)
EU Says Distrust of US on Spying May Harm Terror Fight (BBC News)
German Chancellor Confronts Obama over Alleged NSA Monitoring of Her Cell Phone (by Noel Brinkerhoff and Danny Biederman, AllGov)
NSA Spied on Mexican Government and French Political, Business Networks (by Noel Brinkerhoff, AllGov)
Concerned U.S. Allies Want Privacy Guarantees in Wake of NSA Revelations (by Noel Brinkerhoff, AllGov)