Is the Chinese Hacking of U.S. Government Employees' Data Really any Different than What the U.S. Does to China?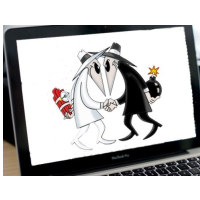 (photo illustration: Steve Straehley, AllGov)
The recent breach of the Office of Personnel Management's (OPM) network, suspected to have been committed by the Chinese government, exposed sensitive records of millions of government workers, including those with security clearances. But the actions on the part of the Chinese aren't any different than what hackers working for the U.S. government have done.
"Stealing secrets from governments is part of spying," Adam Segal, who studies cybersecurity and Chinese policy as a senior fellow at the Council on Foreign Relations, told National Journal. "You can get angry with the incompetence of our defense. It's hard to get angry with the Chinese for trying."
The Obama administration has little moral ground to stand on when it comes to computer espionage, particularly after Edward Snowden exposed just how often the U.S. government has pried into public and private electronic systems overseas.
The New York Times reported last year that the National Security Agency infiltrated the servers of Huawei, the Chinese telecommunications firm, which was deemed a security threat by Washington. The NSA "pried its way into the servers in Huawei's sealed headquarters in Shenzhen," according to the Times' David Sanger and Nicole Perlroth. "It obtained information about the workings of the giant routers and complex digital switches that Huawei boasts connect a third of the world's population, and monitored communications of the company's top executives."
Segal and others have predicted that the federal government is trying now to hack the hack—penetrate Chinese servers in order to delete the OPM information.
-Noel Brinkerhoff
To Learn More:
Does NSA Spying Leave the U.S. Without Moral High Ground in China Hack? (by Brendan Sasso, National Journal)
NSA Breached Chinese Servers Seen as Security Threat (by David Sanger and Nicole Perlroth, New York Times)
Inside the NSA's Ultra-Secret China Hacking Group (by Matthew Aid, Foreign Policy)