India Survives Latest Attack on Valentine's Day
Sunday, February 15, 2015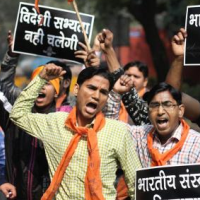 Anti-Valentine's Day protestors in New Delhi (AP Photo)
Young couples had to be on their toes on Saturday. Merely expressing their love in public could have led to them being married off, with right-wing Hindu groups vowing to force marriage on couples found celebrating an indecent "Western festival."
"If you are in love, you should get married," said Ashok Sharma, vice president of Hindu Mahasabha, a conservative Hindu religious organization with branches across India. "Roaming around in public without marriage does not fit in Indian culture. If we find such young couples, we will get them married off," he told The Los Angeles Times.
According to media reports, Hindu fundamentalists were on the lookout for couples carrying roses or caught kissing or hugging at malls and parks. The Hindu Mahasabha has even formed teams to monitor social media.
"Anyone expressing their love on Facebook, Twitter and WhatsApp will be caught hold of," Sharma warned.
If the unmarried couples who were found out on Valentine's Day were not Hindus, then young males had to sit through a "purification process" to become Hindu before being married, Sharma said. Another right-wing group, Bajrang Dal, reportedly planned to deploy priests in parks in Lucknow to conduct quick wedding ceremonies.
These right-wing groups are ideological cousins of the Rashtriya Swayamsevak Sangh (RSS), a radical Hindu organization with close ties to Prime Minister Narendra Modi's government.
Allies of Hindu right-wing political parties have earlier attacked couples on Valentine's Day and issued threats to restaurants, malls and clubs that attempted to mark the holiday. But the annual threats have now become commonplace. In the run-up to Valentine's Day this year, the Hindu Mahasabha's plans invited ridicule on social media, with the subject trending on Twitter this week.
"I love you all. Now waiting for Hindu Mahasabha to get me married to all of you," writer Durjoy Datta said on Twitter.
According to Reuters, students in New Delhi used Facebook to ask people to gather in wedding finery outside the headquarters of the Akhil Bharatiya Hindu Mahasabha on Saturday to mock its campaign against Valentine's Day. "Have to go to the beauty parlour!! The Big day is almost here!!" 'Laxmi Bai', one of the organisers, wrote on Friday. She told The Hindu that women attending the protest were asked to wear khaki shorts to parody the RSS uniform.
On Valentine's Day, police arrested 220 protestors in front of the headquarters, but all were released later in the day.
-Karan Singh
To Learn More:
Valentine 'Police' Offer Roses, Weddings to Keep Indian Couples Demure (by Tony Tharakan, Reuters)
In India, Hindu Hard-Liners do not Heart Valentine's Day (by Parth M.N., Los Angeles Times)
Dressed as Brides and Grooms, Protesters all set to Celebrate V-day outside Hindu Mahasabha Bhawan (Firstpost)
Love is Delhi's Response to V-Day Marriage Threat (by Vijetha S.N., The Hindu)