Hunger Strike and Violence at Guantánamo after 10 Years without Trial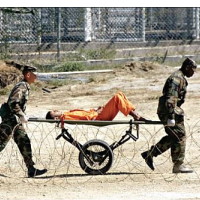 Tensions inside Guantánamo prison reached the boiling point over the weekend when many detainees clashed with military guards who attempted to alter their living arrangements.
After U.S. Army personnel attempted to move detainees from communal cellblocks into individual cells, the prisoners attacked them using improvised weapons, including broom and mop handles and plastic water bottles modified into clubs.
The violent reaction prompted the guards to shoot at the detainees with non-lethal rounds. The U.S. military said there were no serious injuries to prisoners or soldiers.
The decision to relocate some detainees came during a hunger strike that has now lasted more than two months. More than 40 prisoners of the 166 still being held at Guantánamo have refused to eat since guards conducted a search on February 6 that resulted in the confiscation of detainees' letters, photographs and legal mail, and the rough handling of copies of the Koran.
At least 13 hunger strikers are being tube fed by American authorities to keep them from dying.
One protestor, Shaker Aamer a Saudi-born resident of the United Kingdom, told The Guardian that he and others may soon die as a result of what he called "systematic torture."
Aamer, who was told he was cleared for release—to Saudi Arabia—by the administration of President George W. Bush in June 2007, said he has been subjected to harsh treatment from guards and denied water, according to a written declaration filed by his lawyer. Like others held at the prison, Aamer has spent more than a decade without being charged under Washington's policy of indefinite detention.
Of the 166 Guantánamo prisoners, 86 have been cleared for release, but are being held anyway; 34 are awaiting trial; and 46 have been recommended by President Barack Obama's Guantánamo Review Task Force to be held indefinitely without charge or trial.
-Noel Brinkerhoff
To Learn More:
Troops Forcibly Move Hunger Strikers At Guantánamo Into Cells (by Carol Rosenberg, Miami Herald)
Guantánamo Bay's Last UK Detainee: 'People Are Dying Here' In Hunger Strike (by Matt Williams, The Guardian)
Guantanamo Bay Detainees and Military Clash; Hunger Strike Continues (by Peter Finn, Washington Post)
Beatings, Attempted Suicides and Deliberate Starvation: The Dystopic Hell of Guantanamo Bay (by Alex Kane, AlterNet)
Why is there a Hunger Strike at Guantánamo? (by Noel Brinkerhoff and David Wallechinsky, AllGov)
Half of Prisoners Still Held at Guantánamo Have Actually been Cleared for Release (by Noel Brinkerhoff, AllGov)
The Man Behind a Landmark Case: Finding a Life after 7 Years' False Imprisonment at Guantánamo (by Matt Bewig, AllGov)