Human Rights Court Concludes that CIA Tortured and Sodomized an Innocent German
Sunday, December 16, 2012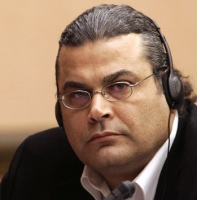 Khaled el-Masri (AP Photo)
Denied justice in the United States, a German citizen has been vindicated by the European Court of Human Rights, which concluded that American intelligence officials wrongly imprisoned and tortured him.
Car salesman Khaled el-Masri, 49, was abducted on December 31, 2003, by Macedonian authorities after a Central Intelligence Agency (CIA) analyst confused him with an al-Qaeda operative possessing a similar name. After 23 days, he was turned over to the CIA and "severely beaten, sodomized, shackled and hooded," according to the court's ruling. The analyst was never punished and was even promoted to head the CIA's Global Jihad unit.
Masri was transferred to Afghanistan, where he spent more than four months in prison before the CIA agents realized their mistake. On May 28, 2009, he was flown to Albania and left by the side of a road.
The 17-member court decided unanimously that Macedonia had violated the European Convention on Human Rights' prohibition on torture and inhuman or degrading treatment by transferring El-Masri to U.S. custody, and ordered it to pay Masri more than $78,000 in damages.
Amnesty International called the ruling "a historic moment and a milestone in the fight against impunity" because it was the first judicial rebuke of President George W. Bush's policies of kidnapping and torture.
The CIA declined to comment on the verdict.
With the help of the American Civil Liberties Union, Masri sought redress in a U.S. federal court in 2006. But his lawsuit against the United States was dismissed on grounds that the case would expose state secrets.
-Noel Brinkerhoff
To Learn More:
Rights Court Rebukes Secret CIA Renditions (by Adam Klasfeld, Courthouse News)
Court Finds Rights Violation in C.I.A. Rendition Case (by Nicholas Kulish, New York Times)
CIA 'Tortured And Sodomised' Terror Suspect, Human Rights Court Rules (by Richard Norton-Taylor, The Guardian)
Case of El-Masri v. The Former Yugoslav Republic of Macedonia (European Court of Human Rights) (pdf)
Khalid El-Masri (Wikipedia)
CIA Agents Who Make Bad Mistakes Go Unpunished (by Noel Brinkerhoff, AllGov)