Homeland Security and FBI Struggle to Investigate Smuggling of…Cuban Baseball Players
Saturday, August 15, 2015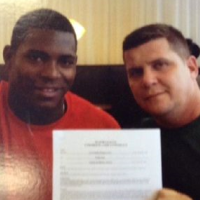 Yasiel Puig and Gilbert Suárez (photo: Gilbert Suárez)
Just as federal law enforcement agents look for those who smuggle drugs into the United States, they're also on the lookout for those who profit by bringing in one of Cuba's most valuable exports—baseball players—into the country.
Investigators from the FBI and Homeland Security began looking into the trafficking of baseball players last year. According to a report by ESPN's Outside the Lines, federal authorities interviewed Cuban players, in both the major and minor leagues, and even presented subpoenas at Major League Baseball's New York headquarters to try to learn if MLB officials had knowledge of how some of their top players happened to leave their homeland.
The investigation of MLB has slowed dramatically since last summer. The organization has claimed to be unaware of any arrangements made to bring Cuban players into this country. In some cases, however, individual teams might have at least an inkling of the methods used.
A particularly prominent case has been that of Dodgers right-fielder Yasiel Puig. Puig came to the United States via Cancún, Mexico. A Miami smuggler named Gilberto Suárez says he negotiated Puig's contract with two Dodgers scouts, Mike Brito and Logan White, in Mexico City. Brito, a native of Cuba, is famous for having signed pitcher Fernando Valenzuela to a contract with the Dodgers.
When a $42 million deal was agreed to, it was faxed to Mexico City, signed by Puig and forwarded to Puig's putative agent, Jaime Torres, for his signature, according to Suárez. White would not talk about the signing and Brito denied having helped to negotiate the deal.
All that money wasn't going to Puig though—smugglers are paid for their work by taking a percentage of a player's first contract, often a 20% to 30% cut. Some of the smugglers are connected with Mexican drug gangs and other criminals. Cuban players have disclosed stories of threats made against them, players being held hostage in Cancún, shootouts and even murder, ESPN reported.
And Puig is far from the only Cuban player to get a big-money deal. The Chicago White Sox, Arizona Diamondbacks and Boston Red Sox have all signed Cubans to contracts worth more than $30 million each, according to ESPN.
Suárez, who had been paid $2.5 million by Puig to help smuggle him into the U.S., eventually pleaded guilty to conspiracy to "encourage and induce an alien" to enter the country illegally. He was sentenced to a month in prison and five months' house arrest. He also had to give up several homes and a car, as well as his interest in another Cuban refugee, St. Louis Cardinals shortstop Aledmys Diaz, who is now playing in the minor leagues.
The situation is even more confused now that the U.S. has diplomatic relations with Cuba. MLB is trying to arrange a way for Cuban players to come to the United States without giving up their Cuban citizenship.
-Steve Straehley
To Learn More:
Federal Investigations into Cuban Smuggling, Major League Baseball Slow (by Scott Eden, ESPN)
Dodgers' Yasiel Puig Smuggler Sentenced To One-Month Prison Term (by Matt Wilhalme, Los Angeles Times)