Guantánamo Judge Accused of Secretly Allowing Destruction of CIA "Black Site" Prison Evidence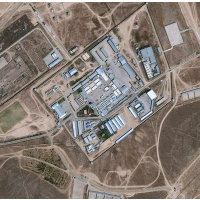 Aerial view of CIA black site in Afghanistan (photo: DigitalGlobe/ScapeWare3d/Getty Images)
By Britain Eakin, Courthouse News Service
FT. MEADE, Md. (CN) — September 11 pretrial hearings at Guantanamo Bay Naval Base resumed Monday, one day after defense attorneys said for the first time that the trial judge secretly permitted destruction of a secret CIA "black site" prison.
Allegations of evidence destruction have swirled around the case since May, when the 9/11 defense team first raised it. However, they did not specify what evidence they believe the government had destroyed until Sunday. According to reporting from the Miami Herald, the defense team believes the government removed some fixtures from a room in the CIA prison used for torture, but did not entirely destroy the structure.
The prosecution has offered photographs and diagrams as a substitute for the top secret evidence, the report said, noting that prosecutors have apparently not revealed the identity of the nation housing the prison to preserve foreign relations.
Prosecutors said last Thursday during a hearing on the issue that it did not do anything wrong.
Evidence destruction did not figure in Monday's hearing, which kicked off with accused al-Qaida leader and 9/11 plotter Walid bin Attash banishing his unwanted defense team to the rear of the courtroom.
Bin Attash initially refused to show up to court, but said he would stay on one condition: "I do not want the attorney's present at the table," he said.
The issue of whether bin Attash will keep his defense team or represent himself remains unresolved.
After a brief recess and a reshuffling of bin Attash's defense team and materials, the court then heard arguments on a government effort to bar defense counsel from sharing unclassified, non-legal communications from their clients with third parties, such as nongovernmental organizations and media outlets.
Non-legal mail constitutes so-called regular mail, and could include letters to or from a detainee's friends or family and the exchange of other material not related to the case such as books or magazines. These materials have escaped the Joint Task Force Guantanamo screening process, according to a 65-page motion filed by the prosecution in February 2014.
Chief Prosecutor Brig. Gen. Mark S. Martins said such communications could be used for al-Qaida recruitment and should be barred.
The prosecution's motion contends that suspected 9/11 mastermind Khalid Shaikh Mohammad's defense team helped him disseminate to the Huffington Post a 36-page manifesto he wrote. The letter claims that Islam does not permit Muslims to use violence to spread the faith, and encourages his captors to embrace Islam as the true path to happiness — an apparent reversal of his previously more militaristic views.
But such communications are problematic, the prosecution argued Monday, asserting that defense teams are using an overly broad definition of legal mail to allow such materials into the public domain.
"These are individuals in a law-of-armed-conflict facility. Regulation of their speech is completely appropriate," Martins said, adding later that members of al-Qaida engaged in conflict with the United States "simply don't have the expressive freedoms that other individuals have." Restricting their communications is "a valid thing for a state to do," he said.
However the defense argued that such restrictions impede the attorneys' ability to do their jobs, and that all information the defense gives to third parties goes through a Defense Department classification review process — supplanting a need for Guantanamo Joint Task Force review.
Once through the process, defense attorneys use their professional discretion to decide how to use it. One defense attorney took issue with the government's insinuation that this information constitutes propaganda.
"What the government calls propaganda is what I do for a living," said James Connell, defense attorney for Ammar al-Baluchi, whose torture is featured in the film "Zero Dark Thirty."
"One person's propaganda is another person's information," he added, noting later that the defense attorneys use their clients' writings to advocate for them.
Connell put forth as an example a letter al-Baluchi wrote to U.N. Special Rapporteur on Torture Juan Mendez, titled "Doctors of the Dark Sites."
"When referring to doctors who participate actively in torture the first thing comes to mind is Nazi doctors and scientists conducting all kind of brutal and sadistic experiments on captives in order to maximize and increase the pain and suffering in order to push it beyond what a human being can ever tolerate, hence the real meaning of enhanced interrogation," the letter reads.
Connell said the prosecution's proposed ban on third-party communications would prevent the defense from doing things like seeking an MRI consultant for their client who suffered traumatic brain damage after having his head repeatedly slammed into a wall by interrogators.
Connell said that one of the defense functions is to humanize the defendants, and that in order to do that, he must seek assistance and advocate on his clients' behalf. The existing protocol governing non-legal mail allows him to do that while preserving the national security interests of the United States, he said.
The defense attorney for suspected 9/11 mastermind Khalid Shaikh Mohammad echoed Connell's sentiment.
"For years we heard that any mention of what was done to Mr. Mohammad in the black sites would harm national security. And we couldn't talk about that openly," he said. Now that it is not classified, it turns out national security has not been harmed, he added.
After the defense took a good chunk of time at the podium, Martins reiterated his earlier point that national security concerns about the use of third-party communications for al-Qaida recruitment are not trivial. He told Pohl that prior efforts to regulate legal mail had not worked.
Noting defense testimony, Martins said Monday's hearing underscored his point that the defense considers everything legal mail now.
"This is the problem. It expands and it becomes a wide, gaping hole," he said.
To Learn More:
Guantánamo Hearing Suspended when Defendants Claim Court Translator Previously Worked at CIA Torture Site (by Noel Brinkerhoff, AllGov)
CIA Paid $15 Million Cash to Create a Torture Prison in Poland (by Noel Brinkerhoff, AllGov)
CIA Escapes Prosecution for Criminal Destruction of Torture Tapes (by Noel Brinkerhoff, AllGov)