Germans Stage Protest at U.S. Base Over Drone Flights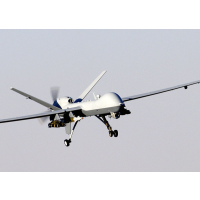 U.S. Reaper drone in flight--Credit: U.S. Air Force / Staff Sgt. Brian Ferguson
Associated Press
BERLIN — Demonstrators have formed a human chain near a U.S. air base in western Germany to protest against lethal drone strikes.
Organizers estimated that about 5,000 people took part in the chain near the Ramstein Air Base on a rainy Saturday, while police put the number at some 2,000, news agency dpa reported.
Activists contend that the base is used to relay flight control data for lethal drone strikes. They are calling for the base, a major U.S. military hub, eventually to be closed altogether.
President Barack Obama said during a 2013 visit to Berlin that "we do not use Germany as a launching point for unmanned drones ... as part of our counterterrorism activities."