Forgotten by Most Americans, Iraq is Still a Source of Profits for U.S. Weapons Makers
Friday, December 27, 2013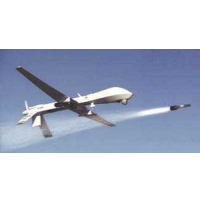 Predator drone firing a Hellfire Missile
The Obama administration has sent missiles to Iraq, with other equipment on the way to help the government of Prime Minister Nuri Kamal al-Maliki fight off al-Qaeda-like insurgents.
The emergency military assistance will also prove beneficial to the American defense contractors that manufacture the hardware targeted for Iraq.
The Iraqi military will receive 75 Hellfire missiles from Washington. Costing nearly $70,000 a piece, the delivery represents an early Christmas gift for arms maker Lockheed Martin. The company also made out with the order to manufacture Aerostat surveillance balloons, three of which were provided to the Iraqi government by the Obama administration.
Other U.S. arms merchants stand to benefit as well from President Barack Obama's efforts to support al-Maliki.
The administration intends to ship 10 ScanEagle reconnaissance drones in March to Iraq. This shipment will mean more revenue for Boeing.
The aircraft manufacturer may also win out if Obama can convince Congress to approve the sale of six Apache attack helicopters to the Iraqi military.
And next fall, the first shipment of F-16 fighters—made by General Dynamics and Lockheed—will arrive in the strife-torn country. Joining them will be 48 Raven reconnaissance drones, manufactured at a cost of $250,000 for the system (and $35,000 per drone) by AeroVironment.
-Noel Brinkerhoff
To Learn More:
U.S. Sends Arms to Aid Iraq Fight With Extremists (by Michael Gordon and Eric Schmitt, New York Times)
War is Wonderful…If You're a Weapons Maker (by Noel Brinkerhoff, AllGov)