Families of Victims of One Drone Strike in Yemen Paid more than an Entire Year's Worth of Victims in Afghanistan
Thursday, August 21, 2014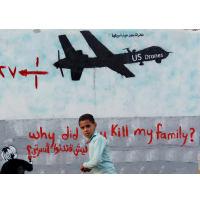 (photo: Mohammed Huwais, AFP-Getty Images)
In the twisted world of compensation for errant drone attacks, an attempt at making up for killing innocent civilians in one country has proven far more valuable than a year's worth of slaughter in another nation.
In Yemen, where a U.S. drone strike last year killed 12 members of a wedding party on December 12, 2013, families of those killed or injured collectively received more than $1 million. That's more money than the U.S. gave to survivors of similar attacks in Afghanistan over an entire year, The Washington Post reported.
Officially, the money awarded in Yemen came from the Yemeni government. But the human rights group Reprieve says the funds must have come from Washington, considering the economic plight of the Middle Eastern country and the fact that the amounts given to families averaged out to about $60,000.
"In Yemen, that is a life-changing amount of money," Kat Craig, a legal director for Reprieve, told the newspaper. "I can't believe those types of figures would be initiated by the Yemeni government." Obama administration officials denied any U.S. role in the payments and have on other occasions denied making payments to Yemeni families after drone strikes.
The disclosures about the Yemeni blood-money payouts also indicated that those targeted in the attack had nothing to do with terrorism, which the U.S. previously insisted. In fact, as the Post's Greg Miller reported, government documents show that two of the victims belonged to a local group "working to curb Islamist militancy."
-Noel Brinkerhoff
To Learn More:
Yemeni Victims of U.S. Military Drone Strike Get More Than $1 Million in Compensation (by Greg Miller, Washington Post)
Yemen to Pay Families of Civilians Killed in Airstrikes (by James Gordon Meek and Lee Ferran, ABC News)
Nothing Says "Sorry Our Drones Hit Your Wedding Party" Like $800,000 And Some Guns (by Gregory D. Johnsen, BuzzFeed)
Yemen Parliament Demands an End to U.S. Drone Strikes (by Noel Brinkerhoff, AllGov)
Does U.S. Pay Compensation when it Kills Innocent Civilians in Yemen? It's None of our Business (by Noel Brinkerhoff, AllGov)