Exxon Teams with Russians to Drill for Arctic Oil
Wednesday, August 13, 2014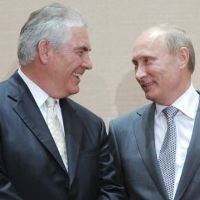 ExxonMobil CEO Rex Tillerson with Russian President Vladimir Putin (photo: Alexsey Druginyn, RIA Novosti)
The crisis in the Ukraine continues as American and European leaders lob more sanctions against Russia for its actions in the war-torn country. But in the oil world, it's business as usual, as the world's biggest petroleum producer moves forward with its potentially lucrative deal with Russia in the Arctic.
Oil king ExxonMobil last week began drilling a new oil well off Russia's Arctic frontier, in cooperation with OAO Rosneft, the country's state-run oil company.
The operation has $700 million in potential, and is one of 40 wells planned by Russia in Arctic waters to see just how much oil it can extract now that global warming has opened new avenues in the region.
The deal was able to go forward despite the latest round of economic sanctions because it was concluded before the West tried again to punish President Vladimir Putin for interfering in Ukraine.
"The well is very important, it's probably one of the most interesting wells in the global oil industry for many years," James Henderson, a senior research fellow at the Oxford Institute for Energy Studies, told Bloomberg.
In addition to the geo-political issues, there are environmental concerns with the drilling. "The West Alpha platform is fast becoming the most controversial oil rig in the world," Gustavo Ampugnani, an Arctic campaigner at Greenpeace, said in a statement. The companies' plan "to drill in the ecologically sensitive Arctic is nothing less than absurd."
-Noel Brinkerhoff
To Learn More:
Exxon Drilling Russian Arctic Shows Sanction Lack Bite (by Stephen Bierman and Eduard Gismatullin, Bloomberg)
Russia's First Shipment of Arctic Oil to Europe Arrives in Netherlands (by Noel Brinkerhoff, AllGov)
Sanctions against Russia? Don't Tell ExxonMobil (by Noel Brinkerhoff, AllGov)