Commerce Dept. Slips Through Rule Increasing Oil Exports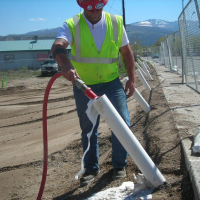 Cleaning a natural gas condensate spill (photo: Sundance Environmental Consultants)
Officials in the Department of Commerce have quietly changed the rules for companies seeking to export U.S. oil, which has been banned since 1975.
The new regulations, adopted by the agency's Bureau of Industry and Security, apply only to condensate, a form of light crude oil, and make it possible for at least two corporations to sell the oil without export licenses. The rules do not lift other restrictions on the export of American crude that came about as a result of the Arab oil embargo.
But that doesn't mean the regulations governing condensate aren't the first steps toward allowing the oil industry, which has ramped up domestic production by fracking shale oil deposits, from getting the green light from Washington to sell more grades of oil to foreign buyers.
"It's a long way from here to a full repeal of the export ban, and they went out of their way to stipulate that this is not, in their view, crude oil," Jeff Navin, a former deputy chief of staff at the Energy Department, told Bloomberg in an email. "But it does show how they're thinking about exporting at least some of our light products."
For now, only two Texas-based companies, Pioneer Natural Resources Co. and Enterprise Products Partners LP, can sell condensate oil outside the U.S. The oil must be run through a distillation tower to be eligible for sale.
Some financial advisers see the new regulations as an important signal. Citigroup wrote that the rules could "open the floodgates to substantial increases in exports," according to Bloomberg.
Domestic producers have been forced to sell their large quantities of shale oil at a discount because it couldn't go onto the world market. Now exports of condensate could reach 1 million barrels per day by the end of the year, according to a report from Reuters.
-Noel Brinkerhoff
To Learn More:
Crude Exports Clarified in Commerce Department Guidelines (by Jim Snyder and Brian Wingfield, Bloomberg)
U.S. Opening of Oil Export Tap Widens Battle for Global Market (by Timothy Gardner and Jonathan Leff, Reuters)
U.S. Oil Industry's Billion-Dollar Question: What is Condensate? (by Catherine Ngai, Reuters)
FAQs – Crude Oil and Petroleum Products December 30, 2014 (Bureau of Industry and Security)
Obama Administration Eases Restrictions on Exports of Lightly Processed Oil for First Time Since 1970s (by Noel Brinkerhoff, AllGov)