Chinese Government Imprisons Brothers of U.S. Journalist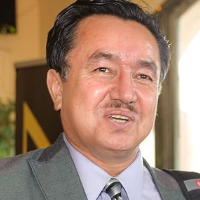 Shohret Hoshur (photo: Broadcasting Board of Governors)
China has persecuted the family members of a U.S. reporter who regularly covers developments in Xinjiang province, where ethnic Uighurs have suffered persecution by Chinese officials.
The target of the intimidation is journalist Shohret Hoshur, who works for Radio Free Asia in Washington. Hoshur fled China in 1994 after the government went after him for his reporting. But his continued coverage of events back home has resulted in three of his brothers being imprisoned, according to Hoshur.
One brother is now serving a five-year prison sentence for violating state security laws, while two others have been detained for allegedly leaking state secrets to Hoshur.
The naturalized U.S. citizen said his brothers are "hard-working, upstanding members of their community, with little if any interest in politics or social issues."
"As farmers and merchants, they have been dedicated to supporting and providing for their families," he said in a statement.
The harassment of Hoshur's family began in 2009 when he reported on a Uighur torture victim, according to The Washington Post. Hoshur has since received calls from family members asking him to stop working for Radio Free Asia.
The U.S. government has taken note of the harassment directed at the Hoshur family. On Thursday, State Department spokeswoman Jen Psaki said: "We urge Chinese authorities to cease harassment of his family and to treat them fairly and with dignity. We continually urge China to respect internationally recognized human rights and fundamental freedoms, including freedom of expression."
-Noel Brinkerhoff, Steve Straehley
To Learn More:
China Uses Long-Range Intimidation of U.S. Reporter To Suppress Xinjiang Coverage (by Simon Denyer, Washington Post)
China's Long-Distance Tactic To Suppress Uighur Coverage (by Bob Dietz, Committee to Protect Journalists)