Central American Children Applying for Asylum—5,400; Accepted—0
Thursday, November 12, 2015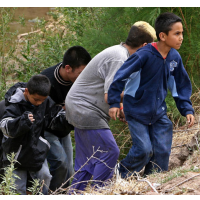 Guatemalan children making the trek out of their country (photo: Omar Torres, AFP/Getty)
President Barack Obama's plan to help children flee violence in Central America and reunite with family members in the U.S. has so far failed.
More than 5,400 kids, most of them from El Salvador, have applied for entry into the U.S. through the Central American Minors Program established last December, but not one has been granted asylum.
"A slow-moving American bureaucracy" has largely been to blame, infuriating advocates for the young children and their families. "Really, it's pathetic that no child has come through this program," Lavinia Limón, president and chief executive of the nonprofit U.S. Committee for Refugees and Immigrants, told The New York Times.
Only 90 of the 5,400 children who have applied to escape street gangs, extortion and rape have been interviewed by the Department of Homeland Security (DHS). Some have been approved, but "lengthy procedures for getting airplane tickets and processing paperwork have delayed" their admittance into the U.S., the Times' Michael Shear reported.
The program was launched in response to the tens of thousands of unaccompanied Central American minors who surged across the U.S.-Mexico border starting in the summer of 2014. The program was set up so minors could apply for entry from their homeland country, and once approved, be flown to the U.S. with the help of DHS.
-Noel Brinkerhoff
To Learn More:
Red Tape Slows U.S. Help for Children Fleeing Central America (by Michael D. Shear, New York Times)
The U.S. Wants to Help Central Americans — By Letting Fewer Refugees in (by Dara Lind, Vox)
Federal Judge Orders Obama Administration to Stop Automatically Detaining Women and Children Seeking Asylum (by Noel Brinkerhoff and Danny Biederman, AllGov)
Vicious Cycle: Deport Criminals to Central America, Gangs Grow and Children and Others Flee the Region to the U.S. (by Noel Brinkerhoff, AllGov)
U.S. Creates Hardships for Foreigners Seeking Asylum by Barring Employment (by Noel Brinkerhoff, AllGov)