Violence in Iraq Means Profits for Beechcraft, Lockheed, Raytheon and other Weapons Makers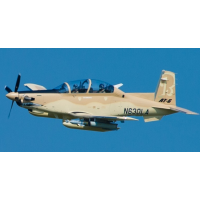 AT-6C Texan II (photo: Beechcraft)
U.S. companies are reaping big benefits from the Iraqi government's battle with ISIS militias. Three sales, including some big-ticket items, announced last month will put nearly $1 billion in the pockets of American defense contractors if Congress approves the sales.
Beechcraft Defense Co. and eight other contractors are selling 24 AT-6C Texan II aircraft, plus spares and other equipment to Iraq. That deal is worth about $790 million. The plane is used for "light attack and intelligence, surveillance and reconnaissance."
AM General has a deal to send 200 of its venerable Humvees to help guard oil installations. The contract, which includes spares and equipment such as radios and machine gun mounts, is worth $101 million.
Raytheon has a $90-million deal for seven aerostats along with 14 Rapid Aerostat Initial Deployment (RAID) Tower systems to be used for command and control by the Iraqi military.
These are just the latest in a string of sales of military equipment to the Iraqi government. Others have included Stinger missiles, C-130J cargo planes, drones and patrol boats.
Since 2005, the U.S. government has provided more than $14 billion in military hardware, services and training to Iraq, according to Global Post. The Iraqi government is now requesting more equipment to battle the Sunni militias, which have taken over large swaths of the country, and American contractors stand to make even more money as the fighting progresses.
-Steve Straehley
To Learn More:
Pentagon Plans To Deliver $1B In Weapons Systems To Iraq. Even Blimps. (by Jill R. Aitoro, Washington Business Journal)
These Are The 9 Weapons The U.S. Is Selling Iraq (by Allison Jackson, Global Post)
Forgotten by Most Americans, Iraq is Still a Source of Profits for U.S. Weapons Makers (by Noel Brinkerhoff, AllGov)