Attacks on Border Patrol Agents Continue to Plunge, but still Average One a Day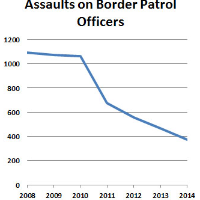 (graphic: Steve Straehley, AllGov)
Although the number of immigrants picked up by U.S. Border Patrol agents has increased, the number of assaults against the officers has dropped, according to figures from the agency.
There were 373 assaults of Border Patrol officers in the fiscal year ending September 30. That figure is down 20% from the previous year and is the sixth year in a row that the number of assaults has fallen. All but seven of those assaults occurred along the southwest border of the United States with Mexico, according to The Arizona Republic.
Despite the drop, agents say immigrants they encounter are more aggressive. "Agents out there are saying that the people we arrest are less likely to listen to verbal commands," Art Del Cueto, president of the Tucson local of the National Border Patrol Council, a union representing agents, told the Republic. "They tend to want to run more, to push back against the agent, to be verbally aggressive."
"But some say the threat is overrated. "Do agents have a hard job? Absolutely. Do they encounter danger in the desert? Absolutely. But not to the level many agents think exists," said Juanita Molina, executive director of the Border Action Network, a Tucson-based human-rights organization.
The high-water mark for assaults on agents was 2008, when there were 1,093 reported incidents. Two Border Patrol officers died in 2014, both in automobile accidents. On-duty officers killed five people last year.
-Steve Straehley
To Learn More:
Assaults on Border Patrol Agents Fall Sharply (by Bob Ortega, Arizona Republic)
10 Lawsuits Filed against Border Patrol for Abuse (by Matt Bewig, AllGov)
Family of Border Patrol Officer Killed with Fast and Furious Gun Sues U.S. Government (by Noel Brinkerhoff, AllGov)