American Atheist Hacked to Death in Bangladesh
Saturday, February 28, 2015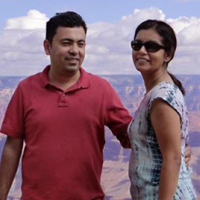 Avijit Roy and his wife Rafida Ahmed Bonya (photo: Facebook)
An American of Bangladeshi origin who blogged about liberal secular writing was hacked to death in Bangladesh this week following threats from Islamic radicals.
Avijit Roy was traveling with his wife, Rafida Ahmed Bonya, through Dhaka in a rickshaw when two assailants removed them and began attacking them with machetes. Roy, 42, was pronounced dead at a hospital. Bonya survived the attack but lost a finger and suffered numerous lacerations.
Muslim zealots had threatened Roy, a bioengineer and a naturalized American citizen, "for his active campaign against Islamist radicals," according to BD News 24, for which Avijit worked as a columnist. Roy, the son of physicist Ajay Roy who has taught at Dhaka University, was the founder of a popular blog, Mukto-mona, which promoted secular writing in the Muslim-majority nation.
Several hundred people protested the killing, demanding the assailants be brought to justice. "Avijit's killing once again proved that there is a culture of impunity in the country," Imran Sarker, head of Bangladesh's blogger association, told Agence France-Presse. "The government must arrest the killers in 24 hours or face non-stop protests."
Roy was the second Bangladeshi blogger to have been killed in two years and the fourth writer attacked since 2004.
-Noel Brinkerhoff, Steve Straehley
To Learn More:
Assailants Hack To Death Writer Avijit Roy, Wife Injured (BD News 24)
American Atheist Blogger Hacked To Death In Bangladesh (Agence France-Presse)
Writer Avijit Roy Hacked to Death (Dhaka Tribune)