After 10 Years, Foreign Terror Case against Palestinians comes to Trial in New York
Thursday, January 15, 2015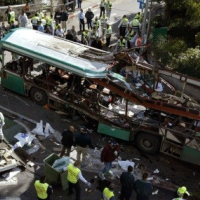 Rescue workers surround bus blown up in 2004 Jerusalem terrorist attack (photo: David Silverman, Getty Images)
Victims of a series of terrorism attacks in Israel a decade ago are finally getting their day in a U.S. federal courtroom.
Survivors of bombings and machine-gun attacks that took place from 2001 to 2004, during what became known as the Second Intifada, want the Palestinian Liberation Organization (PLO) and the Palestinian Authority to pay for the terrorism. Their suit seeks $1 billion.
Lawyers for the PLO have condemned the attacks, which killed dozens and wounded hundreds of others. But they insist the defendants weren't responsible for the terrorism, and inferred that Hamas and Fatah should be the ones being sued. "The men and women who did this aren't here," Mark Rochon of the Washington-based firm Miller & Chevalier told the jury, according to Courthouse News Service.
The attacks included a 2002 attack on Hebrew University's Frank Sinatra cafeteria; a machine-gunning that year on Jerusalem's Jaffa Road; and a 2004 suicide bombing of a bus in Jerusalem.
Courthouse News' Adam Klasfeld reported that U.S. District Judge George Daniels wants to keep politics out of the trial, telling counsel for both sides to avoid the subject. The result was a "strained" effort on the part of attorneys "to give jurors a neutral account of the history of the Palestinian governing bodies."
-Noel Brinkerhoff
To Learn More:
Palestinian Terror Case Underway in NYC (by Adam Klasfeld, Courthouse News Service)
Terror Victims' Lawyer Blames PA, PLO For Killings (Associated Press)
Israeli Terror Victims Given Go-Ahead to Sue Bank of China in U.S. (by Noel Brinkerhoff, AllGov)