Zombies Blamed for Bystander Run over by Car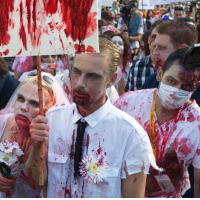 Zombies roam the streets of San Diego at Comic Con (photo: Joe Klamar, AFP/Getty Images)
Sometimes the problem with zombies isn't that they want to eat your flesh, but that their plodding movements tie up traffic and lead to fearful decisions by disabled drivers.
The city of San Diego is being sued by Cynthia Campbell, who was hit and run over by Matthew Pocci Jr. during the city's annual Zombie Walk, part of the Comic Con extravaganza.
Campbell, then 64, was not participating in the Zombie Walk, but was taking photographs of the undead while standing in a crosswalk on July 26, 2014.
Pocci, who is deaf, found his car blocked by the zombie walkers. When he began to get rattled by the strange scene in front of him, he blew his horn and tried to drive ahead. That angered the zombies, who jumped on his car and broke his windshield. Becoming even more concerned for his safety and that of his passengers, he inched forward, struck Campbell and ran her over.
In addition to suing San Diego, Campbell is suing Pocci, accusing him of negligence, dangerous condition of public property and another count of negligence.
Pocci also has been charged with a felony count of reckless driving resulting in a serious injury.
Campbell says in her complaint that the city failed to obtain a special event permit from the city manager, as required by municipal code, for parades larger than 75 people, according to NBC San Diego.
"Had defendant city of defendant zombie walk complied with the San Diego Municipal code, the services of a sufficient number of traffic controllers and monitors for crowd control and safety would have been present," her lawsuit states.
Campbell is seeking an unspecified amount of damages as well as money to cover past and future medical expenses, lost earnings and loss of earnings capacity, general damages and the cost of the suit.
-Noel Brinkerhoff
To Learn More:
Victim Files Lawsuit Against City, Driver in 'Zombie Walk' Crash (by Samantha Tatro, NBC San Diego)
Crowd of Zombies Blamed for Accident (by Reni Anguelova, Courthouse News Service)
"Zombie Walk" Driver Wouldn't Change What He Did (by Wendy Fry, NBC San Diego)
Court Rules Zombies Allowed to Roam the Streets (by Noel Brinkerhoff, AllGov)