Yes, Sherri Ybarra Actually Got Elected
Saturday, November 08, 2014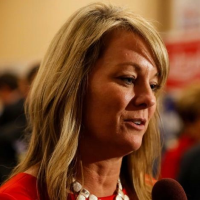 Sherri Ybarra (photo: Otto Kitsinger, AP)
The November 4 turnout was so Republican friendly that even Sherri Ybarra won her race.
The much-maligned GOP candidate for Idaho superintendent for public instruction narrowly defeated her Democratic rival, Jana Jones. Ybarra garnered 50.7% of the vote to Jones' 49.3% and the winning margin was about 5,700 votes.
Numerous missteps plagued Ybarra's campaign. These included plagiarizing material from Jones' campaign website and claiming endorsements from elected officials who didn't support her. She also claimed she would earn a doctoral degree in one semester of work. It turned out to be an educational "specialist" degree.
Further, the political newcomer had barely participated in the electoral process as a voter, failing to vote in 15 of the past 17 state elections.
Meanwhile, Jones "had nearly twice as much experience," the Associated Press reported, serving for two former state superintendents. But she didn't have that "R" after her name on the ballot.
-Noel Brinkerhoff
To Learn More:
Ybarra Wins Idaho Chief of Public Instruction Race (by Kimberlee Kruesi, Associated Press)
Ybarra Wins Superintendent's Race (by Clark Corbin, Idaho Education News)
Is Sherri Ybarra the Weirdest Candidate who Might Actually Get Elected? (by Steve Straehley, AllGov)