Wisconsin County Uses Armored Vehicle and 24 Officers to Collect Judgment against "Argumentative" 75-Year-Old
Tuesday, October 28, 2014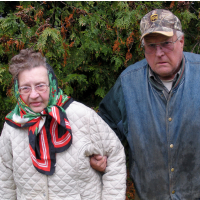 Marjorie and Roger Hoeppner (photo: Ryan Lister)
A sheriff in Wisconsin insists his department did the right thing by sending an armored vehicle and two dozen deputies to collect money from a senior citizen.
The action came against Roger Hoeppner, 75, who has been in a long-running legal battle with the Town of Stettin in Marathon County.
After Hoeppner refused to pay $80,000 to the city and come out of his house after 24 deputies showed up, the department sent in its military surplus vehicle, known as the MARV (Marathon County Response Vehicle).
Hoeppner agreed to come out once he saw the MARV, and later paid the money he owed.
Sheriff's Captain Greg Bean told the Journal Sentinel that he stands by the decision to force Hoeppner to pay his fines.
Although the Hoeppner wasn't considered dangerous, Bean said, he was "known to be argumentative," Bruce Vielmetti reported.
"People may not always understand why, but an armored vehicle is almost a necessity now," Bean said.
Hoeppner had been fined $500 a day by the town for failing to clean up his yard.
-Noel Brinkerhoff
To Learn More:
Armored Vehicle Helps Collect Civil Judgment in Small Town (by Bruce Vielmetti, Journal Sentinel)
Wisconsin County Uses Military Vehicle To Collect Money From Unarmed Senior (by Michael Allen, Opposing Views)
Tennessee Woman Jailed for Having Overgrown Lawn (by Noel Brinkerhoff and Steve Straehley, AllGov)