Tennessee Woman Jailed for Having Overgrown Lawn
Tuesday, October 21, 2014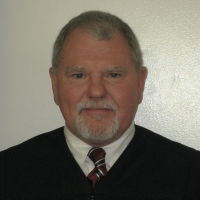 Judge Terry Vann (photo: Lenoir City)
Going to jail for a little grass isn't uncommon, but a Tennessee judge might have taken the phrase too literally when he sentenced a woman to jail time for not maintaining the yard of her home.
Karen Holloway of Lenoir City had been cited by the city for the heinous crime of not pruning her bushes or mowing her lawn. She said that she worked and watched her children while her husband attended school and worked, so there was little time for yard work. When the yard wasn't cleaned up, she had to appear in court with no lawyer.
She asked the judge, Terry Vann, if she could perform five days of community service to avoid spending time "with child molesters, and people who've done real crimes," she told WVLT-TV. Vann insisted she spend time in jail, but did reduce the sentence to six hours.
Holloway said having overgrown trees and bushes is "certainly not a criminal offense."
"It's not right," she said, adding she felt "bullied" by the criminal justice system.
Holloway has been cited before for a messy yard. That time, her husband was serving overseas in the military.
-Noel Brinkerhoff, Steve Straehley
To Learn More:
Lenoir City Woman Sent to Jail for Having a Messy Yard (by Steven Powell, WVLT-TV)
Land of the Free? Woman Sentenced to Jail Time for Having a Messy Yard (by Matt Agorist, Free Thought Project)
City Undeterred by State Drought Restrictions, Threatens Couple with Fine for Brown Lawn (by Ken Broder, AllGov California)