Wind Energy Produced Record Electricity to Power 17.5 Million U.S. Homes; Wind Jobs Up 20%
Wednesday, April 13, 2016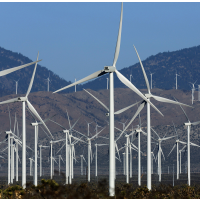 (photo: Irfan Khan, LA Times via Getty Images)
By James Osborne, New York Times
WASHINGTON - Wind turbine construction in the United States has rebounded to its highest level in three years, in the aftermath of a long political fight over the future of federal tax credits that support renewable energy projects.
More than 8,500 megawatts of wind power capacity was built last year, almost double the 2014 tally, according to a report Tuesday by the American Wind Energy Association. More than 3,600 megawatts of that construction - enough to power about 100,000 homes - was built in Texas, which now counts almost a quarter of the country's wind energy. The surge followed a rush by wind developers to get projects under construction before the end of 2014 out of fear Congress would not renew the tax credit, an uncertainty that has hung over the industry almost since its inception two decades ago.
But industry officials are optimistic that less volatile times are ahead after Congress recently approved a bipartisan deal extending the tax credit through 2019 and government regulation on carbon emissions produced by their fossil fuel competitors is increasing.
"The wind industry has been on a boom-bust cycle going back 20 years," said Jacob Susman, head of sales and marketing at EDF Renewable Energy, which operates wind farms across Texas. "If you look at the Paris agreement and the Clean Power Plan, that gives you a 15-year, maybe 50-year, framework on how we want to see our older dirtier power facilities replaced with cleaner, modern facilities."
Last year the Obama administration announced a Clean Power Plan, seeking to cut carbon emission from the power sector more than 30 percent from 2005 levels. Then in December, nearly 200 countries agreed during a meeting in Paris to cut greenhouse gas emissions to prevent the Earth's temperature from rising more than 2 degrees Celsius.
The question now is whether the rapid growth in wind power can be sustained after a six-fold increase in production capacity over the past decade.
Between the tax credit and a sharp decline in turbine costs, running wind turbines became so much more profitable in Texas that there were times in recent years where wind developers would pay utilities to buy their electricity so they could collect the tax credit, which is only paid on power that is delivered. Along the way, new markets have been created. Investment firms have been putting capital into wind farms as a means to protect their investments in traditional natural gas plants against spikes in fuel prices, said Michael Goggin, senior director of research at AWEA.
Also, corporations eager to meet internal environmental goals and get a guaranteed price on their electricity for years to come have been signing on to long-term power deals with wind producers
Google, Procter & Gamble, General Motors, and Mars, the maker of M&M's and other candies, are among dozens of major U.S. corporations buying electricity directly from wind farms in Texas, said Jeffrey Clark, director of the Wind Coalition, an industry group.
"I love to tell people every M&M is made with wind," he said.
For now, power analysts are predicting that the rapid pace of construction last year will continue. More than 14,000 megawatts of wind turbines - enough to power about 380,000 homes - are either under construction or in the late stages of development, Goggin said.
Under a bipartisan federal budget deal last year that also ended a decades-long ban on U.S. oil exports, the renewable energy tax credit was extended through 2019 - though with shrinking payments to developers beginning next year. In 2017 they will receive 80 percent of the tax credit, down to 60 percent in 2018 and 40 percent in 2019.
The hope among developers is that as the tax credit starts to shrink, President Barack Obama's rule cutting carbon emissions from the power plants fired by natural gas and coal will increase demand for wind power as older coal-fired plants are put out of business.
That rule was stayed by the U.S. Supreme Court in February, pending a ruling on its legality by the justices.
To Learn More:
AWEA Release on 2015 Annual Market Report (American Wind Energy Association)
An Industry Group Says US Wind Energy Generated a Record 191 Megawatt-Hours of Electricity Last Year, Enough to Power 17.5 Million Homes (Associated Press)
As Wind Power Employment Grows 40% in One Year, 3 Companies Dominate Industry (by Noel Brinkerhoff, AllGov)
Largest Area of Federal Waters in U.S. to be auctioned for Offshore Wind Power Projects (by Steve Straehley, AllGov)
Electricity from Wind Energy Cheaper to Produce than Nuclear, Coal or Solar (by Noel Brinkerhoff, AllGov)